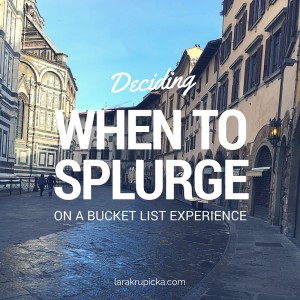 The nine days my husband and I recently spent in Italy were filled with dream-come-true events. Just being in that country and seeing the sights I'd heard so much about would have been enough. But the extra tours (and a class) that I booked, along with some first-class travel and hotels brought the trip up to the level of truly memorable.
In previous posts, I talked about how I saved money on airfare and lodging using points and miles. I've always been thrifty, so I knew any bucket list trip I took would be done on limited funds (we are saving to put three girls through college, after all). As I showed in those posts, bucket list travels don't have to be overly expensive. But that doesn't mean you shouldn't occasionally splurge when it comes to once-in-a-lifetime experiences. It may be that those splurges end up being (to borrow from the well-known MasterCard commercial) priceless.
Don't know when to splurge and when to save your pennies for another bucket list experience? Here are some criteria that worked for me:
Does this option represent the quintessence of my bucket list experience? One of the tours I booked for us involved having lunch and wine on the terrace of a vineyard in Chianti overlooking the Tuscan hills. You can't get much better than that for experiencing the essence of Tuscany. Both the food & scenery were amazing.
Does it afford me an inside or behind-the-scenes look at something I have admired from afar for a long time? We happened into the chance to climb the Leaning Tower of Pisa, which gave us a perspective many don't often gain and definitely became a memorable part of our trip (confession: we actually didn't have to pay to climb, thanks to some generous fellow travelers, but having the opportunity made me realize why it might be worth shelling out money for options like that in the future).
Will I continue benefitting from it afterwards? We took a cooking class in Florence, which gave us know-how and recipes we'll use for making meals at home. Also, I booked this because my husband loves to cook and learning to cook Italian dishes in Italy –  what's not to love about that?
Is the incremental cost minimal compared to the benefit? We were able to book a first class train compartment on one leg of our trip at the same price as second class, thanks to an available discount. It was so worth it for the privacy and comfort, even for a three-hour trip. Again, having experienced it, I'm going to keep my eye out even more for upgrade options like that, if they come at little to no extra cost.
How does it fit the rest of my adventure? Will this particular splurge improve the rest? I booked two nights at the Park Hyatt Milan (can you say "Five-Star Luxury"?) for the end of our trip. And while I used a credit card benefit to get them, I might consider splurging on better accommodations similar to that in the future. The rest, relaxation, comfort and pampering we experienced there allowed us to return home more refreshed.
Is my bucket list experience itself a splurge? Maybe you've always wanted to fly first class or stay in a penthouse suite. Then saving up to make those happen, even if you have to pay full price (although on the first class flight I would argue that there are plenty of ways around it), would make your decision for you.
Do I have exclusive access through connections, or just being at the right place at the right time? This reason alone may not be worth the splurge, but combined with the above factors, could sway your decision.
Some splurges are obvious – ones that match a favorite hobby or interest or are somehow otherwise so perfectly suited to you or your family members. Others, aren't so clear – but don't blow them off. Give it some thought using the considerations I've listed above.
I spent years saving my pennies and skipping add-ons when it comes to our family's experiences. Only recently did I discover how the occasional splurges can elevate an experience and add value well beyond the monetary cost. Hopefully the tips I've shared here will help you not miss out on special opportunities in your bucket list adventures when it comes to considering pricier options.