I am so excited to be taking my husband on my ultimate dream trip this year for our 20th anniversary. In a previous post I talked about how I am using airline miles to get us to Italy and back for under $150. But airfare is only a part (albeit usually a large one) of the cost of a bucket list trip. And today I thought I'd share about how I've been able to arrange for our bucket list lodging for nine nights for less than $500, including four nights at five-star hotels.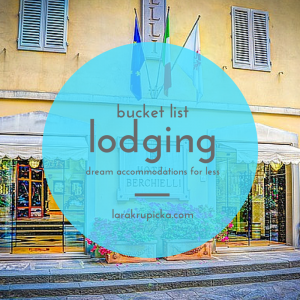 Here is how lodging for our trip breaks down:
Two nights in Rome at the Hotel Indigo – $80 (plus 90,000 IHG points)
Two nights at the Park Hyatt Milan – $0
Three nights in a one-bedroom apartment in Florence – $237
Two nights in a studio apartment in La Spezia – $169
To accomplish these savings I did three things:
First, I applied for the Chase IHG co-branded Visa card. After spending $1,000 within the first 3 months of having the card, I received 60,000 IHG points. In the world of hotel bookings, you can either get a free room using points, or if you want to stretch your points further, you can book with "cash & points," essentially "buying" the difference in points for much less than buying points directly (approx. $.007 per point). In my case, I booked with cash and points, paying $40/night and covering the rest with points (versus paying $375 per night). The cash and points option is often less expensive (including the calculated value of the points) than the best public rates available. However, this is not always the case, so it's always good to compare what the cost is by converting points used to their cash value, unless you have points to burn.
Next, I had my husband apply for the Chase Hyatt Visa card. This card comes with an amazing bonus after spending $1,000 in 3 months: two free nights at any Hyatt property in the world. Since the Park Hyatt Milan's rates start at $678 per night, we're getting a great value for this card bonus. As I discussed in my post about airline credit cards, it's always important to understand your own ability to handle credit before opening new cards. And it definitely helps to have a good credit score.
Finally, for our stays in Florence, and La Spezia (our entry for exploring the Cinque Terre), I opted to try airbnb's services. I like that the site has plenty of reviews and the hosts include photos and important details about their properties. The costs compared to hotels in the same places were very reasonable. And I like the option of buying our own food from the local market, instead of always having to eat restaurant meals. Plus, having a bit of space to stretch out at the end of the day will be nice. Unfortunately I hemmed and hawed too long before booking a Florence apartment and the one I'd hoped for was gone. But we still did claim a cute spot that sounds like it is situated well enough for us to get around the city easily.
In La Spezia I booked us a charming studio apartment that is part of an early eighteenth-century mansion overlooking the Gulf of Poets and Apuan Alps. It exudes charm! And the owners of both properties sound quite friendly and accommodating. It will be interesting to see how using this modern method of booking lodging works for us.
As I stated in my previous bucket list travel post, what I have described here is the most stripped-down version of saving on bucket list lodging (meaning being able to stay at your bucket list destination or in dreamy/bucket list-type places on a budget). To delve deeper into the world of travel rewards and points, check out sites like The Points Guy and Noob Traveler, or even sign up for Chris Guillebeau & Stephanie Zito's Creative Live class, Make Your Dream Trip a Reality.
How about you? What do you do when looking for accommodations for your trips? Do you use hotel points? Look for discounts? Have you stayed in any aspirational digs like the Park Hyatt Milan?