Where do you want to travel in your lifetime?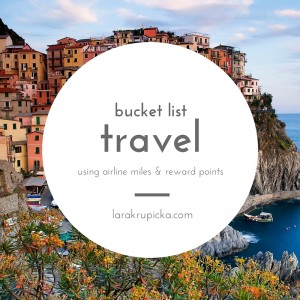 You would be hard pressed to find someone who doesn't have travel destinations on their bucket list. More often than not when I ask people about their bucket lists, the first item they mention is a place they'd like to travel to. However, travel is expensive, especially international travel. That's a big part of why so many destinations end up on a bucket list – we're waiting for the day we can afford to go.
Which is too bad. Because bucket list travel doesn't have to be expensive or inaccessible – if you know where to look and how to plan. In fact, I'm taking my husband to my number one bucket list destination this year: Italy. We'll be spending two nights at a 5-star hotel near the Vatican in Rome. Then we'll head to Florence and spend several days there, exploring the city and touring Tuscany (I'm booking us a tour that includes lunch at a winery). After that, we're staying at a cute apartment in the oldest mansion in La Spezia on the side of Mount Santa Croce overlooking the Gulf of the Poets, the Apuan Alps, and the Versilia. We'll spend two days there hiking between the five towns of the Cinque Terre and enjoying the views and the food. Actually, I imagine we'll be enjoying the views and the food throughout our trip! And we'll cap off our visit to Italy with two nights at the Park Hyatt Milan. I'm hoping to find Mike a chic hat (he often wears hats) in Milan's fashion district.
Now, putting together a bucket list itinerary like this one could run you easily three to four thousand dollars. Or more. But I have worked it out for a fraction of that price and I want to share with you how I made this dream trip come true, and where you can find the resources I used to do it to put your own bucket list trip into action.
For now we'll focus on the one key tool that launched our bucket list trip: airline miles (I'll talk about the accommodations side of things in a future post). I was able to book our flights (Chicago to Rome and Milan to Chicago) on American Airlines for 80,000 miles and $121 in taxes and fees. Oh, and did I mention that Mike and I rarely fly anywhere? He happened to travel for work several times in the past two years to Finland, which accounts for a number of those miles. But even without that, we could have gotten the tickets with airline miles earned through reward credit cards.
Here's how it works on the most basic level (below I provide links to three of my favorite travel blogs, where you can learn the ins and outs of using miles and points): applying for one or two rewards credit cards can earn you 40,000 or more miles in three months or less. Plus you can receive card-member benefits such as one free checked bag, priority check-in and Group 1 boarding.
Two cautions: you need to have a good FICO credit score to qualify for these types of cards. Applying for the cards won't ruin your score (contrary to popular myth), although applying for too many at once can be detrimental. You also need to be a responsible credit card user – in addition to paying off your balance each month, you should know the amount you need to spend on the card in order to earn the miles, and how long you have to reach that "minimum spend." Don't apply for cards with requirements you can't meet.
That said, here are the two mileage cards I started with, that earned us more than enough for this trip (these are not affiliate links):
Chase Sapphire Preferred® Card
Currently 50,000 mile bonus after spending $4,000 in the first three months. Annual fee of $95 is waived the first year.
Citi® / AAdvantage® Platinum Select® MasterCard®
Currently 50,000 American Airlines Aadvantage bonus miles after spending $3,000 in the first three months. Annual fee of $95 is waived the first year.
To learn everything you would need to know for planning your bucket list trip, check out the online video course that I learned it from: Make Your Dream Trip a Reality with Chris Guilleabeau and Stephanie Zito on Creative Live.
My Favorite Miles & Points Blogs:
What destination is on your bucket list? Have you ever used airline miles earned through a credit card to purchase airfare?
Photo by Matt John on Unsplash via CC License