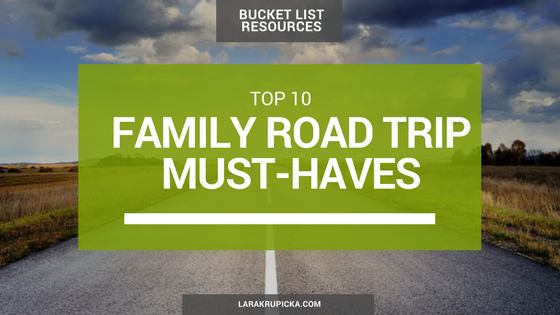 As a parent I have always approached family road trip vacations with a mixture of anticipation and anxiety. I love to travel and enjoy introducing my kids to new places. And as much fun as it is to go by air on a trip, spending time together on a long car ride and experiencing the passing scenery in real time can be a uniquely enjoyable and bonding time – given the right tools and mindset. This list contains 10 things I have found to create a better (more memorable) road trip:
Travel/ Auto Bingo cards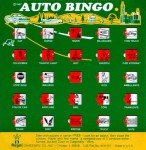 Encourage the kids to watch the scenery by engaging in a friendly competition of Travel Bingo. This car game has been around for decades, and having tried other versions, we've found the original format to work the best. If you've never played, the rules follow regular Bingo, where you want to "cover" 5 items on your card in a row to win. You'll be on the lookout for streetlights, cows, railroad crossings and more. Just make sure you buy Regal Games' orange cards (Interstate) or green cards (Classic). The classic pink cards are better for in town than on the road and blue just imitates the License Plate game, which you can play without buying bingo cards (and which is a ton of fun for long car rides too – simply spot and check off as many license plates from the 50 U.S. states or Canadian provinces as you can).
Fleece throws and neck pillows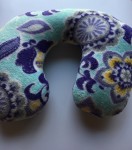 Comfort is key and when body temperatures in your family vary, the struggle to stay warm (or cool) is real. For those who tend cooler, it helps to bring along a fleece throw to cover their legs in the event that the warmer folks need to run the air conditioning. Some kids also travel better when they have a neck or bed pillow to lean on. You could even make your own neck pillow out of super soft fabric, like I did.
Audiobooks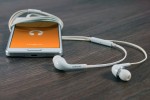 Whether your kids listen to their own books on their devices or you play one through your sound system for everyone to listen together, audiobooks can be a great way to lose yourself in a story and make the time go faster. This is especially helpful if, like us, you have a child prone to motion sickness who can't read for themselves. Together we've listened to The Chronicles of Narnia by C.S. Lewis, Poppy by Avi, Charlotte's Web (read by author E.B. White himself), The Tale of Desperaux by Kate DiCamillo and others. Not all audiobooks are created equal, so be sure to listen to a sample before committing to an audiobook for your trip. We now use Overdrive to check out MP3 audiobooks from our library. The app includes samples of every book, so we can tell whether we want to listen to it or not.
Conversation Starters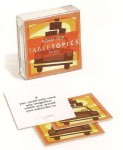 Being together for hours in the car can be nerve-wracking at times. But it also offers a unique opportunity for conversation. You're all together without the usual distractions, why not make use of the time to explore new topics and get to know your kids and spouse better. Thinking of what to talk about can be a challenge though, so it helps to take along tools to get the ball rolling. Here are two of my favorites:
Table Topics. These conversation starter cards come in a variety of versions. The To Go Road Trip set makes the most obvious choice for its compact format (40 cards). But you could buy any version and pack along a handful of cards from the set. Expect questions like, "which three items would you take with you if you were moving?" or "where would you like to take a hot air balloon ride?" The one drawback? You'll probably only want to go through the questions one time.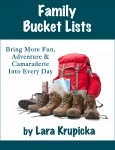 Family Bucket Lists: Bring More Fun, Camaraderie and Adventure Into Every Day. For questions that help you explore ideas for spending time together and what interests your kids have (that you might not have known about), my book is there to help. There is no better time to dream up your family bucket list than when you're already on your way to an adventure. The questions are ones that I ask my own family – and because the answers change as we all mature, they never grow old. By the way, if you want a card version of this like Table Topics, you can buy the downloadable Family Bucket List Conversation Cards through my Etsy shop.
Frisbees, balls, jump ropes, & frequent stops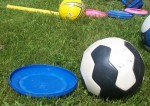 Sure, you're going to stop periodically to use the facilities, but if the weather permits and you are lucky enough to find rest areas on your route that have open space, why not use that time to get active? Even just a few minutes of tossing a ball or Frisbee does wonders for working the kinks and jitters out of bodies, young and old. Want to avoid arriving at your destination feeling cramped and tired? Try stopping more often. In our experience, getting out of the car every 2-3 hours for just a few minutes allowed us to feel 10 times better at the end of the day. It was more than worth the extra half hour to an hour or so added to our trip. And having something to do even briefly during those stops made our kids more eager to get out of the car.
Snacks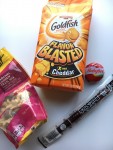 When I was a kid, car snacks were a highlight of family vacations for me. Partly because my mom knew to pack special foods that we were only given on trips (like Ritz crackers and Easy Cheese, or Pringles – yum!). Our family's road trip treat is Twizzlers candy. So clearly, fun food is key to ensuring a good time on your road trip. Try to find snacks your family likes but doesn't get to eat on other occasions.
To avoid overloading your kids with sugar or arriving at your destination feeling gross from too many unhealthy snacks, stock your car with nutrient-rich choices too. Keep in mind that they need to be easy to eat without making a mess and preferably non-perishable or at least something that will stay fresh for a day.  As my dietician friend Shelly of The Goal List suggests, trail mix, apples, and carrot sticks travel well. If you have a cooler, string cheese is a good option too. Dried fruits like raisins, protein sources like beef jerky, and good grain snacks like graham crackers make great snacks on the road as well.
Drinks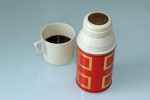 It's tradition in our family at the start of every road trip to stop at Speedway where we fill up the tank with gas and grab a giant Speedy Freeze, aka Slushee/Slurpee/Squishee (the kids and I pair up to share, while DH drinks his own). Given the frequent pit stops that often result, our tradition probably isn't the best,unless as I suggested above, you're trying to take regular breaks. But staying hydrated is important. Make sure everyone brings a refillable water bottle. If your kids like their water chilled, they may want to start with plenty of ice in their bottle. In the summer, we fill water bottles half way with water and put in the freezer, then when we're loading up the car we top them off with cold water and they stay cold all day.
If hot drinks are more your speed, go old school and fill an insulated thermos with your favorite hot beverage. You'll save on pricey refills and have a reliably good drink (coffee drinkers know what I'm talking about).
Cleanup supplies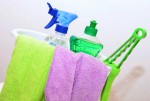 Messes are bound to happen. So it pays to be prepared. We make a point of having on hand a roll or two of paper towels, a bunch of grocery store plastic bags for garbage, Wet Wipes, napkins and hand sanitizer. It helps to have a few old towels along for drying off wet benches (or wet kids). And if you know you'll be picnicking, why not pack along a flannel-backed vinyl tablecloth? It's much more appetizing to eat atop your own clean surface and it takes up little space in the trunk of a car.
A portable hotspot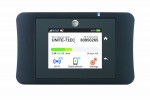 Taking a portable hotspot along can be a lifesaver if you have a limited data package on your smartphones, or want to use multiple devices online without paying for data on each individually. Use it to find restaurants along your route. Go online to change hotel reservations. Or stream movies on a tablet. Some libraries have begun offering portable hotspots for checkout to their patrons. Just be sure to place one on hold in time for it to become available for your trip.
A Sense of Adventure & Anticipation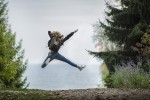 There may be faster ways to get to your destination. But slower travel has its advantages. Don't miss out on all that road trips have to offer by wishing it to be over soon. Think of your time in transit as part of the adventure and encourage your kids to do the same. What might you see along the way? What might you learn? How will your family's identity be shaped by the time spent on your journey? Memory making isn't only for once you've arrived. The most memorable occasions just might occur between here and there.