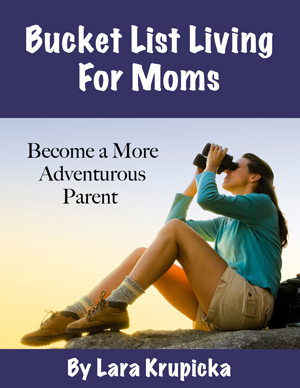 – Purchase Now. Choose Your Version –                                                                                           Paperback                   Kindle                  iPad/iPhone                  NOOK                PDF
Who are you, mom? What drives your life?
Wife, parent, chauffeur, domestic engineer, coach. With all the hats you wear as a modern mother, it is no wonder your calendar dictates the shape of your days. But even as you enjoy the role of mommy, you're often not sure who you would be without that title and its roles. And that doubt grows as your children move toward greater independence.
The good news is that you can take control back from the tyranny of the clock and regain your self-identity. It starts by exploring what resonates most deeply inside you and translating those desires to a concrete list of plans.
Bucket List Living For Moms: Become a More Adventurous Parent guides you through the process of designing, implementing, and celebrating a list of how you want to spend your life.  It provides a quick, playful format for sorting out what excites you and where you want to invest your time now and in the years to come. This guide offers reassurance and help as you face the challenge of redefining yourself as a person and a mother.
Women who read Bucket List Living For Moms will:

Gain a greater appreciation for all they have already experienced.

Understand better who they have become since children entered their life and who they want to be going forward.

Enjoy more peace as they weave plans for their own unique list of what they most want to make happen in their lives into their calendars.

Find inspiration & motivation to set their bucket list adventures into motion.

Learn how to prolong the good times with traditions and celebrations that suit them best.

Deepen their relationship with their kids by capitalizing on unique bonding opportunities resulting from bringing their bucket lists to life.
Dare to take the first step toward being a more adventurous woman and parent. The more you live out your life longings and uniquely impact the world with your gifts, the more you will enjoy and model the dynamic life you want your kids to experience.
What Others Are Saying about Bucket List Living For Moms:
For any mom who desires to live more intentionally and rediscover her dreams! ~ Joy, mom of four.

Do you ever feel like 'just' a mom? This book will remind you that you are so much more! ~ Susie, mom of three.

Life goes by way too fast and moms can lose ourselves. Instead, stay focused on what gives you joy. This book will help you do just that! ~ Peg, mom of three.
Sign up for my newsletter today to be the first to learn of launch events and specials.

Product Details:
Bucket List Living For Moms: Become a More Adventurous Parent by Lara Krupicka
$6.99 digital, $8.99 paperback

PDF version (8.5×11):   38 pages, 333KB       Other digital versions: 36 pages, 200KB     Paperback:  76 pages
Buy the book at: