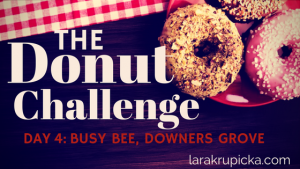 We're on Day 4 now of our Challenge and friends have been asking if we're getting sick of donuts yet. The answer? Of course not! Our secret? We're eating only about one donut-worth apiece (give or take) each day.
For Day 4 we tried donuts from a true old-fashioned bakery. Ingram's Busy Bee has been selling local families their scratch-made cakes, cookies and pastries in downtown Downers Grove since I was a child, if not longer. Which is why I wanted to include them in our challenge. Their business isn't based on a fad or a "concept," but simply years of proving they can deliver a great product.
In my bucket list adventures I have always valued authenticity. When I traveled to Russia in my 20's I did a homestay, living with Russian families instead of booking a curated tour, staying in hotels & seeing carefully selected sites. When I've sought to experience the food of a region in the U.S., I've based my choices, as much as possible, on recommendations from the locals. And whenever we travel somewhere new, I try to avoid the tourist traps and find where everyday folks shop and eat (although the kitschy shops always manage to lure me in).
Never has this philosophy let me down. And it held true in this case as well.
Ingram's Busy Bee bakery sits on Main Street, about a block away from the train station in the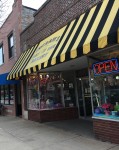 longtime business district of town. The bright yellow-and-black-striped awning and windows decked with seasonal decorations remind me of trips to this and other local bakeries in my childhood. Inside high-up shelves showcase tiered decorated cakes and glass-fronted cases display rows upon rows of baked goods ready to take home.
I eyed the frosted cookies, but had to hurry to buy my donuts since the girl behind the counter was already stacking trays from the case onto a cart in preparation for closing time a half hour later. Thankfully she still had a nice variety of donuts for me to choose from. I brought home two chocolate frosted cake donut holes (this was the first shop to offer bite-sized versions), our usual glazed donut, and a custard-filled bismarck.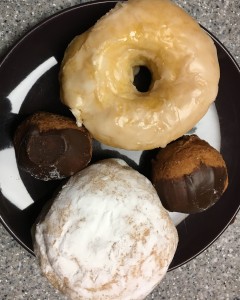 Two words for all three donuts: oh. wow. The glazed donut was beautiful to behold. A very tall, golden yeast pastry, with a dense, but light, texture, it managed to be flakey without giving way to air pockets (like Stan's glazed). It wasn't too sweet and had just the right flavor.
The donut holes were also dense, but with a moist cake-like texture that was perfectly crisp on the outside. A thick, smooth daub of hardened chocolate icing on top melded nicely with the buttery cake flavor. It's a good thing we only had donut holes and not whole donuts, because I'm not sure I could have stopped after only two bites (which is how much it took to eat the half of a donut hole that I split with Katherine – they don't skimp on size).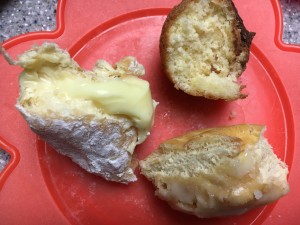 Finally there's the piece-de-resistance: the custard-filled bismarck. This yeast donut, like the glazed one, stood 3-4″ tall, dusted with a generous coating of powdered sugar. It was heavy with filling, so we knew we wouldn't miss out on tasting custard in every bite. The custard itself overflowed when I cut into the bismarck, not dripping like the watery custards in some Boston Creme donuts, but clotted thick like pudding. The flavor of donut and custard balanced well without being too sweet. This one won as our overall favorite from Ingram's.
Ingram's Busy Bee Bakery Scores 
Presentation: 4 stars
Variety: 3 stars
Creativity/Uniqueness: 3 stars
Texture: 5 stars
Glaze: 5 stars
Overall Donut Flavor: 5 stars
Overall Score: 4.17 stars
It's no wonder to me that Busy Bee comes out as the top scorer so far in our challenge. They've had decades to perfect their donuts and have clearly earned the spot they hold as a local bakery. This is no flash-in-the-pan donut shop or concept shop. This is an honest-to-goodness hometown business that knows how to please. Following the lead of the locals proves to be a good philosophy once again!
Is there a locally-owned bakery like this in your town or region that people rave about? Do you look to locals for recommendations when planning your bucket list adventures?