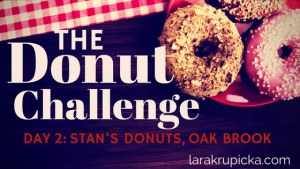 Our week of trying new donut shops continues with a visit to the brand new Stan's Donuts & Coffee at OakBrook Center. But before I give a rundown on our Stan's experience, I want to share with you something that I learned as we started this challenge: getting recommendations when planning an adventure can make a big difference. We would not have known about Stan's if it weren't for friends chiming in on social media to recommend it to us. In fact, the concept of our Donut Challenge arose from our awareness of some local shops partly through others' recommendations.
When you're planning a trip or starting a new hobby do you look to others who have experience for advice? Do you ask locals for restaurant recommendations and read travel guides for ideas on attractions to visit? Do you seek suggestions on the right tools to invest in for your hobby or the best places to shop for them? In the age of the Internet, it's not difficult at all to survey your friends about any subject. And people are often eager to help. Don't forget the value of this the next time you set out to do or see something new.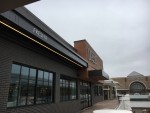 After work yesterday I headed up to Oakbrook Center mall to check out Stan's Donuts. I've been shopping at this mall since my mother dragged me to the Crate & Barrel store there as a preschooler. Along with an array of department stores and specialty shops, it has some excellent restaurants (Mon Ami Gabi, The Cheesecake Factory and Wildfire, to name a few), plus Pinstripes, an upscale bowling alley, and a recently added AMC 12-screen movie theater. In other words, entertainment and nightlife are plentiful at the mall. In conjunction with the AMC, a new food court called The District was added. Stan's Donuts opened a stall in The District earlier this month.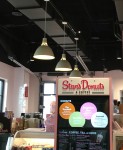 I parked in the lower level parking underneath the wing of the mall anchored by Nordstrom's (entrance is on the south side), although the mall would recommend parking in the Purple Parking by the AMC. From where I parked I took the elevator to Level 2 of the mall and exited just outside The District – very convenient. Luckily, I arrived at an off hour. No movies had recently ended and it was too early for the dinner hour crowd. Even so, I waited in a line behind a little more than a half dozen people. According to the cashier, the lines had typically been 30 deep or longer since the Grand Opening on March 18th.
Stan's Donuts sells a large variety of flavors and prices them in categories: Standards, Specialties and Dough Boy's Best. You can choose from old-fashioned donuts in traditional and unique flavors, filled pockets and bismarks, pretzel-shaped donuts, cake donuts and more. I chose one from each category: a standard glazed, a chocolate orange old-fashioned (specialty),  and a Biscoff Pocket (Dough Boy).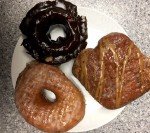 Here's what we thought of each one: the glazed yeast donut had a nice flakey texture, with the layers evident. They had puffed up nicely and even had a few air pockets, reminiscent of a beignet. However, the glaze itself had separated and made the outside a bit moist. Katherine, Evelyn & I agreed that it was good, but not the best of the three.
Like the glazed donut, the Biscoff Pocket was nice and flakey. The glaze-coated pocket held just the right amount of Biscoff Cookie Butter filling. As someone who enjoys dunking Biscoff cookies in my coffee, I could very well see how this would pair well with a cup of joe (which Stan's sells). This one I would buy again.
Finally, the orange old-fashioned with a chocolate frosting did not disappoint. The taste was excellent – the cake donut had a complex orange flavor and the rich, deep chocolate of the frosting matched it well. The donut itself was soft with crisp edges. Katherine's only wish was that it had more chocolate on it.
Stan's Donuts & Coffee Scores *
Presentation: 3 stars
Variety: 5 stars
Creativity/Uniqueness: 5 stars
Texture: 3 stars
Glaze: 3 stars
Overall Donut Flavor: 3 stars
Overall Score: 3 2/3 star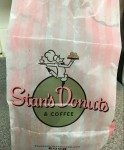 Right now, Stan's & DeEtta's are neck-in-neck in the overall score. We'll see how the others match up in the coming days. In the meantime, we definitely recommend Stan's Donuts – particularly if you are in search of a unique flavor like the Biscoff Pocket, Captain Crunch Bismark, or a Lemon Pistachio Old-Fashioned (which friends tell me they love).
* (texture, glaze & flavor based on Glazed Donut only)