Two hundred fifty-two days until the end of school (give or take). Ninety-four days until Christmas. Ten days until I leave for a scrapbooking weekend. Five days until the weekend. Seven hours until we have an exciting arrival to our household.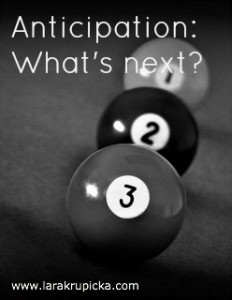 I admit it – I love counting down to special events. The buildup of anticipation makes me giddy and energized. I remember as a kid looping one anticipation onto another. When one holiday ended, I began looking forward to the next one. When we returned home from one trip, I started thinking of the next.
And while as an adult I've come to appreciate the importance of being present to what's happening now, I still believe in the value of having an occasion coming up to look forward to. Living the bucket list life has given me so many more opportunities for that.
In fact, today's arrival is the culmination of a goal that my husband and I considered years ago, but never actually added to our bucket list. When we bought our home the summer before our now fifth-grader was born, we made sure it had extra space for overnight guests. We wanted a spot for out-of-town visitors and missionaries on furlough to come to, which has happened. But in the intervening years we also tossed around the idea of having a foreign exchange student stay with us. Except that our children have been so cautious and such homebodies, that we never expected them to have a desire to study abroad. We abandoned the goal of hosting an exchange student. In doing so, we missed out on years of anticipation.
Because today our first exchange student arrives from Santiago de Compastela, Spain. She'll live with us for three weeks. And in return, our eldest will stay in her home for two weeks in the spring. In the time since the original idea rolled around in our minds, our children have grown more adventurous. They've learned to enjoy exploration. They've seen the excitement of branching beyond the familiar. And as a result, all three of our daughters have been counting down the days to our exchange student's arrival since our high schooler signed up in August.
It has been a fun time of waiting and preparing. We've done some scrambling this past weekend to get our home ready. And I'll spend another hour or two today at my sewing machine putting the finishing touches on the room our guest will stay in. And then this evening we'll have the joy of welcoming a young Spaniard to our home.
I also hope you've been enjoying the Bucket List Living For Moms book launch celebration and the build-up to the Kindle giveaway drawing that will be announced tomorrow. After the conversations we've had here about motherhood, identity, risk-taking and community, you might be wondering, 'what's next?' I hope you'll read the book. I hope you'll join our community. You have next month's Adventures in Bucket List Living newsletter to look forward to. And of course, I'll still be here each week offering tips, inspiration and insight on living the bucket list life as a busy mom. Beyond that it's up to you.
Make your bucket list. Set a goal for the first thing from it that you'll work toward. Then enjoy the anticipation of reaching that goal.
In the comments below, share with us one thing you're already looking forward to. Are you counting down the days? What else can you do to build excitement leading up to it?