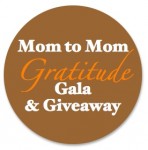 I've known Christa Melnyk Hines for a few years now. As a fellow journalist, she has always impressed me with her compassionate professionalism. Christa leverages her background in communication to help moms, dads, and kids to relate well. Her e-book Confidently Connected: A Mom's Guide to a Satisfying Social Life is an excellent example of this.
In today's guest post for the Mom to Mom Gratitude Gala and Giveaway, Christa shares about the importance of practicing self gratitude when it comes to reaching our goals. (Remember to leave a comment or subscribe to enter the drawing. And don't forget to check out her other posts this week at her blog on Wednesday, and Heidi Smith Luedtke's on Thursday). Here's Christa:
Tucked away in our basement bar refrigerator behind the soda, the extra cartons of milk, and a couple of beers, sits a special bottle of champagne.
I promised myself, at the beginning of the year when I made my annual short-term bucket list, that I would pop open the bubbly after reaching one my goals.
Among my champagne-worthy goals was writing a book. With the help of a writing coach, I cracked apart the steps, dug in, and after eating, sleeping and breathing "the book," I produced a resource for moms that I felt proud of.
Anyone who goes after a big goal with plenty of unknowns quickly realizes that the process is often fraught with obstacles, branches in the forest snagging at your sweater, and a web of tangled roots popping out of the ground ready to trip you up.
One particular rejection derailed my focus and shook my confidence for several days. But, the spirit behind a bucket list goal has a way of propelling you forward despite the challenges––and sometimes heartache. In those moments you seek other paths, you lean on your support system, but to give up is unimaginable.
So why after reaching a major accomplishment do so many of us do a double arm pump, shout "yes!" and then with barely a blink of the eye, move on to the next item on the list? We are all so busy that we don't take time to congratulate ourselves on the victory.
A little self-gratitude is necessary for our personal self-worth and future motivation. It's necessary to model to our children to help them learn to appreciate their successes.
And yet, self-gratitude is something I struggle to practice myself.
My thoughtful friends took time to organize a small celebration in my honor after my book launch, but I never cashed in on the reward I promised myself. I quickly moved on to other pressing deadlines, risking creative burn-out.
So, my bottle of champagne still sits there overseeing the milk turnover and chaperoning the beer.
The mistake I made was not assigning the reward to a specific goal. As you go about making your bucket list, write down how you will celebrate each victory or sweeten each step toward the goal with a small reward. Then stick to it. If you are doing a family bucket list, your kids will help hold you accountable!
Whatever you choose to do, don't cheat yourself out of your victory dance. Your ego may not need it, but your spirit does.
Oh, and if you happen to notice a cork fly by, that's just mine! Better late than never, I'm celebrating a year blessed with amazing friends and mentors and exciting personal achievements. The beautiful thing about champagne is it offers an excuse to celebrate along with my circle of friends and family. Whole-hearted, interconnected gratitude at its best!
How do you practice self-gratitude after achieving a goal? Do you have a favorite treat or reward?