Life is hard. Parenting is hard. But even in the midst of the toughest days, we can find gratitude if we know where to look. And that thankfulness can go a long way toward re-framing (and dare I say, sometimes even changing) those tough days. And on the good days? Well, it's hard not to be grateful then. It just takes pausing to make note of all we have to be thankful for. Which can make the goodness seem to explode around us.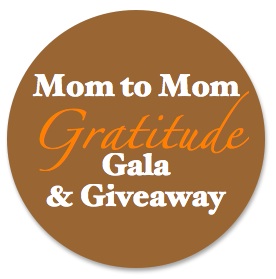 Those are just two of the reasons I am teaming up with two prolific mom writers (between them they have hundreds and hundreds of publishing credits in national and regional magazines) for a three-week blog tour. Tomorrow the Mom to Mom Gratitude Gala and Giveaway kicks off right here. You'll want to join us because not only will you be encouraged in your parenting, but at the end of the tour we're also giving away a double prize package containing two sets of each of our e-books.
One lucky winner will receive a copy of Christa Melnyk Hines' e-book, Confidently Connected: A Mom's Guide to a Satisfying Social Life, Heidi Smith Luedtke's e-book Detachment Parenting: 33 Ways to Keep Your Cool When Kids Melt Down, and Family Bucket Lists for themselves and a copy of each to give to a friend.
Here is how the tour, which runs from tomorrow, November 12th, through Friday, November 29th, will work:
Each week will feature one author sharing their expertise on the difference gratitude makes in various aspects of parenting. You'll gain insight and tips that you can apply in your own home. The tour will follow the same route each week, with stops scheduled as follows:
Tuesdays: come back here and visit my blog.
Wednesdays: visit Christa Melnyk Hines' blog.
Thursdays: visit Heidi Smith Luedtke's blog.
This is an interactive tour. We need you to participate! And when you take part, you'll be entered to receive the great parenting e-books prize pack. The prize drawing will take place on Friday, November 29th, with the winner announced on all three blogs.
To enter the drawing:
·      leave a blog post comment on any of that week's posts.
·      subscribe to any tour stop blog.
·      subscribe to any of our newsletters.
·      If you refer a friend who subscribes, you and your friend will be entered into the drawing. (Just be sure your friend lets us know that you referred her.)
Each of these qualifies for an entry, so you can gain multiple entries.
I hope to see you around in the next few weeks. I am thankful for you, my readers.