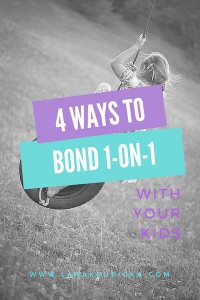 Tuesday mornings are my Chick Fil A breakfast dates with Evelyn, my 12-year-old. We started going in February for their free mystery breakfast offerings and we've kept it up ever since. This month, with our eldest working 2 hours away at a camp and our 15-year-old in Europe with a friend for 12 days, I've enjoyed even more one-on-one time with Evelyn, but we've still kept that Tuesday morning date going. There is something about the ritual and our corner booth that makes it a special time for the two of us.
Even if you're the parent of an only child, once your kid reaches a certain age, you may not be seeing much of them in a "hanging out" sort of way. And with busy schedules, it often takes planning and purposefulness to capture meaningful parent/child interactions. Here are 4 ways that have worked for me:
1. Get physical. Sharing a sport or physical activity can be a memory-making experience, even if it feels ordinary at the time. You could bike, play tennis, go golfing, run a 5k race.
2. Play a game. When you play games you laugh together, think together and shed the worries and stresses of life. You bond. The beauty is, there are games for every type of person. If your kid says he isn't into games, you may not have found one that suits his personality. Check out boardgaming.com for game reviews and suggestions.
3. Go out to eat. Removing yourselves from the distractions of home allows you both to focus on each other better (although you might want to suggest that you both put your cell phones face down on the table or in a purse or pocket). Make a list together of places you want to try, and work from that whenever the opportunity arises.
4. Tackle a quest. Evelyn likes to quilt. I like to quilt. And while we do spend time working on our own projects in tandem (one of us at the sewing machine, the other ironing or cutting fabric), that shared interest recently afforded us the chance to go on a quest to visit a number of quilt stores in our area in what is called a "Shop Hop" complete with free patterns, raffles and discounts. You may not want to Shop Hop, but I'll bet you can turn a shared interest into a quest of sorts. Try to use all of the LEGOs in your house in one huge project, test out recipes for your favorite dessert in search of the ultimate version, or see how many characters you can collect in Pokemon Go. You get the idea – a big shared project can equal a great time to bond.
Have you paid attention to how often you interact one-on-one with your kids? Are you due for a date or outing with each of them? Try one of the four methods above with your child this summer while your schedules are more open.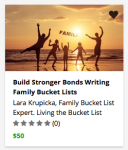 ---
If you're looking for more ideas to engage in bonding with your family that you can use this summer, sign up for my online video course "Build Stronger Bonds Writing Family Bucket Lists".