Two weeks ago we left for our bucket list anniversary trip to Italy. It was amazing! The weather cooperated, we reached all of our destinations without incident, and we had a great time experiencing a variety of settings. There isn't anything I would change about our trip. I plan to share some tips about things I did that contributed to making it truly the trip of a lifetime in a future post. For today, I thought I'd just give you a some visual highlights of our journey (note: these were all taken with my iPhone. The scenery was that gorgeous!).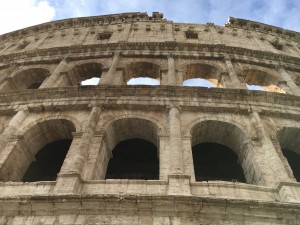 Seeing the Colosseum up close was a once-in-a-lifetime experience (although I'd do it again!). Actually, being in a city with so many ancient structures was awe inspiring, itself. I had to laugh when a tour guide called a 17th century building "modern."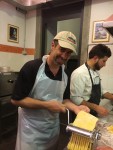 I booked a cooking class for us in Tuscany, because my husband loves to cook and where better to get the inside scoop on Italian food than from an Italian chef! Making homemade pasta for the first time, in Florence, was more than bucket list worthy.
Speaking of Tuscany, views like the one below were my main motivation for planning this trip in the first place. The hill towns and surrounding area were everything I imagined. Even a drizzly day couldn't dampen our experience.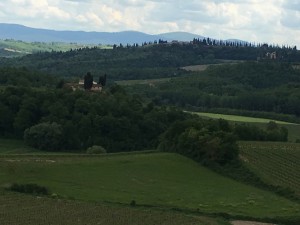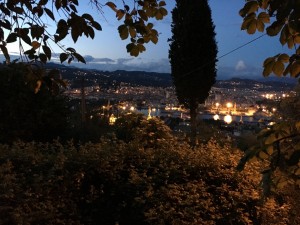 I booked an Air BnB apartment up in the hills of La Spezia as a launching off point for reaching the Cinque Terre. I am so glad I did because we got to see this view of the Gulf of Poets from the garden each night. No wonder Lord Byron and Percy Bysshe Shelley retreated here!
The Cinque Terre itself didn't disappoint either. About 8 or 9 months ago, I came across a photo like the one below (that I took). Immediately I was intrigued and when I learned this was the Italian fishing village of Manarola, I added the Cinque Terre to our bucket list trip itinerary. We hiked a lot of miles up and down rocky seaside paths flanked by olive groves and lemon trees between the five towns. No wonder limoncello is popular here!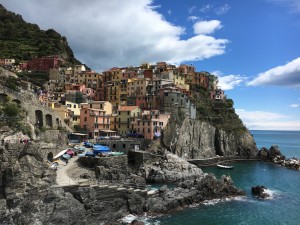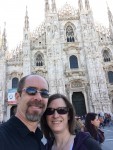 Finally, we finished up in Milan, city of fashion and finance. Staying in a five-star hotel has long been on my bucket list. Enter the Park Hyatt Milan, only a three-minute walk from the Duomo (if you cut through the famed Galleria Vittorio Emanuele). Our room was spacious and the manager event sent up champagne and dessert in honor of our anniversary.
I checked so many things off of my bucket list in those 10 days! I count that trip a privilege and the perfect way to celebrate twenty years of marriage to my wonderful husband!
In my next post I'll tell you what I did for this trip that I haven't done much previously, but made a big difference in making it memorable. In the meantime, where have you been (or where do you want to go) that is bucket list worthy?