The kids are bickering, the house is a mess, and you're just wishing you could get away from it all. Does that sound like your family's spring break? No? Maybe yours goes more like this: the kids are bickering, your car/hotel room/suitcase is a mess, and you're just wishing you could get away from it all.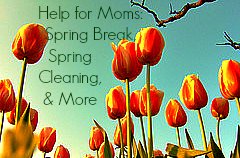 Parenting and its challenges has no end. There is no getting away from the needs of children and the pressures of running a household. But there are ways to keep yourself in the midst of the joy more often. There are solutions that help you get away from the stress to regroup and refuel – together. I'm thankful as a journalist that I can take some of these common problems and run them by experts and fellow moms for interesting, helpful and doable solutions. In the March and April issues of parenting magazines in the U.S. and beyond, I have articles that offer great insight and tips on these very problems. I hope you'll read them for yourself so that you can enjoy your family – both during spring break and in the months to come.
Spring Break & Having Family Adventures
Planning a Spring Break that Doesn't Break You, Calgary's Child
Have You Ever: An Invitation to Adventure, Flagler Parent
Spring Refreshers & Why Kids Should Help with The Chores
31 Refreshers That Take 15 Minutes or Less, Okanagan Child
Chores Make the Grade, Houston Family
Sibling Spats
A Special Solution to Sibling Strife, Atlanta Parent

Parent-Child Relationships
Mother & Daughter, Shoulder to Shoulder, Family Australia Magazine
Humor for Moms of Preschoolers
The Perils of Public Restrooms with Preschoolers, The Village Family Magazine
Photo credit: Tulip Era in the Ottoman Empire… by Kivanc Nis on Flickr via CC License.