Imagine taking your family on a year-long trip around the world. Kathrin Spaccarelli and her husband Nathan did just that with their two boys from September 2013 to September 2014. A longtime love of traveling, plus a desire to introduce their boys to friends and familiar places in Japan (where both Kathrin & Nathan lived before getting married), among other things, inspired the Spaccarellis to sell their home, pull their son from public school (and instead "world school" both boys) and make the trip. Their travel adventures included Japan, Thailand, Indonesia, Australia, South Africa, Portugal, the UK, France, Austria, Italy and more – for a total of 25 countries in one long trip.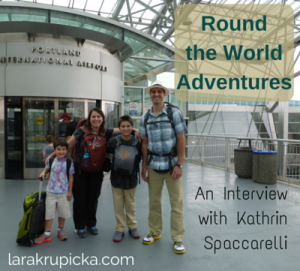 After hearing their story during a Creative Live class I took last spring, I knew I had to share the Spaccarellis' perspective on family bucket lists with you. So today I'm thrilled to introduce you to Kathrin Spaccarelli. Here is some of what Kathrin told me in a recent interview:
A lot of people love to travel, but not everyone takes their family on a Round The World trip for a year. What made you decide to do that and why at that point in time? 
We were watching our kids grow up all too fast. We really wanted some time to just enjoy each other. It was a good moment for us emotionally, but also as far as the kids' ages. We loved that they weren't yet in their teen years where they were perhaps more connected to their friends than their parents. Our other criteria was that they were able to self play or read – so we could all be doing our own thing together. The hope was that they would be old enough to read during long train rides.
That said, I think now even as they do age, that [round-the-world] experience has so bonded us all that I can totally see us doing it again as they get older and into their teens.
Can you share a highlight from that year of a time where you felt especially close as a family? 
Every day was its own magic. Every day we were finding something new and exciting to experience together.  If we were studying caves in Malaysia or religion in Thailand or Mozart when we were in Austria – whatever it was that was local to the area – we would also give the kids some choices too. So we had adventures that everybody loved.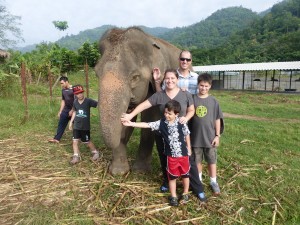 The moments that stood out to me though were those moments where the ten-year-old looks over at me and says, "Mom, we really don't need more than what's in our backpacks, do we?" That is the reason we took our kids. When you come from the developed world, to be able to see other countries and appreciate where you are and what you do have. Those were those moments where it hit home.
Points and miles played a big role in making your trip possible. For other families with destinations on their bucket list, where would you suggest starting in the points and miles world?
 The biggest one is the Creative Live Course: Make Your Dream Trip a Reality. The idea behind it is, within 30 days we'll help you get enough points and miles to go on a dream trip of your choice, whatever that is. Even though we got all of our tickets around the world for the whole family with points and miles that we accumulated before we left, there were tricks I learned in this dream trip class.
I also follow The Points Guy online. And the Frugal Travel Guy. There are quite a few other sources out there to start. The key is using credit cards that earn you points or miles, and making sure every dollar you spend is connected to award miles. Opening credit cards, if your credit is good and you are financially smart with it, can get you good bonuses where you earn quite a few miles just by starting up with a card.
What's next on your family's bucket list?

Most of the time in our house when we talk bucket lists, it involves travel. In January we are scheduled to go to South Africa to visit a dear couple, who we met on our travels, that invited us to come. They live near Capetown and they have connections with a safari that we will take. January should be a nice month to make that happen.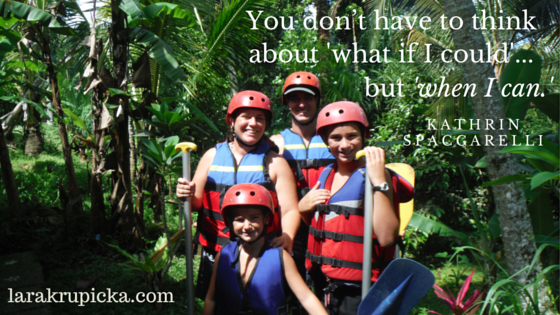 Other than that, we're always dreaming. Each of us have a few spots we're thinking of. My younger son is in public school right now, so we have to work around that. But my older son
is homeschooled, so he's ready to go any time.
Anything you would like to add? 
The biggest thing I noticed is that it is all a matter of choices. We came from a more affluent area in Portland and we would have people who own three big screen tv's look at us with envy and say "boy, I wish we could do what you guys did." I think it's a matter of choices.
I want people to know that it is possible. That by making certain choices you can make this happen. There are so many ways to make it happen. It's so great for the family – not only for the kids themselves and their education, but as a family we learned and grew together so much. If I had anything to say to anybody, I'd just say "go do it." Because it's totally possible. You don't have to think about "what if I could," but "when I can." And then make it happen.
You can find Kathrin online at takingthebigbreak.com, in the Taking the Big Break FB community, and on twitter: @TheBigBreak.