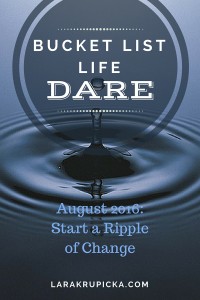 What bothers you most in life? What action would you be willing to take this month to be a pebble causing a ripple of change?
It feels like there's an ocean of uncertainty, fear, and just plain bad stuff in our world lately. Terrorist attacks, brutality toward and by police, political divisions and coups and corruption. The world's problems loom so large. And we're so small. Insignificant. Overwhelmed.
And yet…
Even a single drop of rain on the ocean sends out a ripple. And that ripple broadens as it goes out, in wider and wider circles.
That's what this month's bucket list life dare is all about. You being one small droplet causing a ripple of change for the better in our world. Dare to do that one thing, take that one step against the grain. Instead of complaining about something, do the opposite. Be the person who puts away their cell phone at the checkout and talks to the cashier. Be the one who complements the mom whose kids seem like a handful. Bring a cold drink out to the postal worker who is running late delivering your mail.
Take that step of kindness you always meant to, but never had the time for before. Start that ripple of change.
---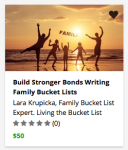 Start a ripple of change that brings your family closer by creating family bucket lists. I can teach you how. Check out my book in e-book or paperback or take my online course, now only $15!