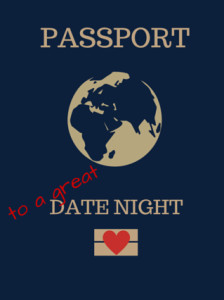 Click to download printable PDF file.
Assembly instructions (for 3.5″ x 5″ booklet):
Download the PDF file of the Date Night Passport (above).
Print the PDF file two-sided (page 2 on reverse of page 1 and so on) on 8.5″ x 11″ paper.
Trim .5″ from top and bottom of each page. Then cut each page in half width-wise at the 5″ mark (separating into two double-sided pages per sheet).
Fold each page layout in half, then stack together with cover page (reads "This Passport Belongs to") on outside.
Download printable Passport Cover. Print in color or black and white. Then trim to 5″ x 7.75″ size.
Place on top of assembled booklet. Bind by stapling or punch a hole in the top left corner and insert a binder ring.
Fill out the pages with restaurants and activities in your area (or in cities you plan to/hope to travel to).
Enjoy the adventure!