Valentine's Day yesterday was low key at my house. My husband cooked an amazing meal for me on Sunday. I gave him chocolate and each of my girls a little Valentine's candy on the 14th.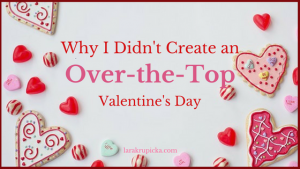 Compared to the heart-themed-breakfast, love-notes-in-lunch-boxes fusses many of my fellow moms made, it doesn't sound much like a bucket list celebration, does it?
There's a reason for that.
Over-the-top celebrations aren't sustainable for me. And I would argue they aren't healthy or sustainable for most. They raise the bar and set expectations such that we're often scrambling to find ways to make the next event memorable, to wow our kids or spouse or friends or social media followers with our creativity and pizzazz, to outdo ourselves. And in the process we cheapen everyday life and rob our kids of anticipation.
Going big has become such a way of life in our culture that I suspect we're losing the ability to appreciate the ordinary. Our sense of perspective has been skewed by this desire for every milestone or occasion to be bright and amazing. When Valentine's Day and St. Patrick's Day and Easter share the same level of riotous hype in a household, how do kids learn which of those days is most significant?
When teenage girls become accustomed to up-do's and manicures and professional makeup for homecoming dances, preceded by an elaborate "ask" by their date, then prom must include limousines and multi-hundred-dollar dresses and fancy "after parties." But what's left for the day they become engaged? And how can they help but expect the type of wedding that requires an exorbitant price tag when a mere high school dance merited so many frivolous expenses?
We have become so focused on giving our kids everything now, that we are leaving nothing for later. What will your children's bucket lists look like when they reach their 20s and their 30s? When they are your age, what will they be hoping to do? How will they not be bored in retirement having done it all already?
More importantly, what do your kids bucket lists look like right now? In the wake of the hype and the busyness and the constant need to go big and achieve much, I'm hearing from kids how they just want a day to hang out at home and do nothing. They want a break from it all. Are you brave enough to give it to them? Or do you fear making them feel "left out" by not giving them every over-the-top experience you think their peers are getting?
Break the cycle. Dare to be the parent who invites their kids to enjoy the ordinary and leaves some bucket list experiences for the future. I know a lot of other moms who would appreciate it. And I'm pretty sure in the long run, your kids will too.
---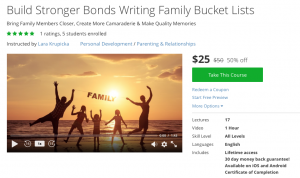 Feeling exhausted from trying to match the over-the-top expectations prevalent among parents? Are you still eager to give your kids meaningful experiences that bring your family closer? I can teach you how. Check out my book Family Bucket Lists, or take my online course, Bonding Through Bucket Lists.