David Williams and his wife Sarah are longtime friends of mine. One of the things I have always admired about David is his desire to see the world. In his 20s, David made it his goal to travel to every continent (so far he's made it to 6 continents and 80 countries). But he didn't leave that goal behind when he become a dad – he uses that passion to shape his parenting. He takes his kids on trips to places you and I only dream of going (like Fiji, Australia and Paris, to name only a few) – because that fits his vision for his family.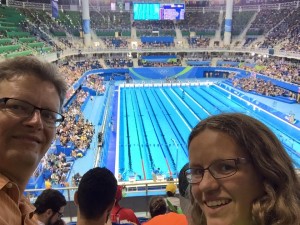 Most recently, David and his fourteen-year-old daughter Lydia traveled to Rio for the Olympic games. I thought it would be fun for you to hear from David about this once-in-a-lifetime bucket list trip.
When did you get the idea to go to Rio for the Olympics?
It is something I have always wanted to do. I always liked watching the Olympics and I thought it would be cool to go. It seems like lots of people talk about going, but not many actually go.
About nine or ten months ago, I booked award [airline] tickets, but didn't book anything else. I didn't know whether I go. As the year progressed, I started thinking it really would be fun. And I imagined Lydia would have fun if we went. So I booked a hotel and bought event tickets [a few weeks before the opening ceremony].
Did you have any concerns about going to Rio?
Everyone was saying "you're crazy. You're going to get kidnapped. There's Zika. That's the worst idea I ever heard." My theory was that it was incredibly important to the country of Brazil that these Olympics go okay. They will do whatever it takes to make the Olympics go well and make sure visitors are safe. Because their national reputation is at stake.
And that was the case. I didn't see one mosquito the whole time. I felt incredibly safe. The people were super friendly and there were tons of [Olympic] volunteers.
What were some highlights of the Olympics?
I sat next to the father of Britain's best Olympic swimmer and World Champion in the 200m freestyle. It was pretty cool.
Also, we had tickets for three sessions of swimming. But nothing else. So after dinner the first night I decided we should go see something else. We looked online at beach volleyball, for tickets to the game the next morning. And they had no cheap tickets (B & C level) left, only A level (top tier). But they were only $22 each. So we went to a beach volleyball game.
Just you and your daughter Lydia went to the Games. Why her and not the rest of the family?
I knew it was going to be expensive. My wife wouldn't want to go, my eldest was busy with high school marching band and I had taken my son to Tokyo earlier in the year. But I knew my middle daughter Lydia would love it because she likes swimming.
Did that trip impact your relationship with your daughter?
Any time you spend extra special time with your kids, it will help your relationship. I'm all about experiences you remember. This is something Lydia and I will remember for the rest of our lives.
Lydia is a really laid-back person. But she had the biggest smile the whole way home. She got to see Missy Franklin, Michael Phelps, and Katie Ledecky. It was a great experience that went off without a hitch and she had a great time.
I want my kids to realize what a big world there is and to be interested in the rest of the world because they experienced it.
Any advice for other parents?
I'm very thankful that I'm able to do a few things like this. I try to do it at a very reasonable price. Just being flexible is the key. If you're flexible and willing to sit on a plane for a while, it's worth it to go to some of the famous cities of the world and experience them with your family. It costs money. But I do think it's worth it.
Everyone should check out theflightdeals.com. You can find amazing airfares if you're willing to go wherever and aren't set on a particular destination.
What's next on your bucket list?
I'm planning on taking my son to Hong Kong in November, thanks to a really good airfare I found.
---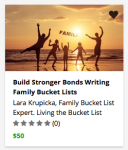 Want to bring your family closer by creating and living out bucket list dreams like this one? I can teach you how. Check out my book in e-book or paperback or take "my online course," now only $15!