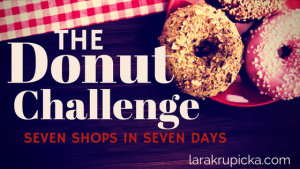 It's Spring Break here. While many families have left town to head South (for the warmth), North (for skiing), or just about anywhere else to simply get away and explore somewhere new, most of my family is home. Our youngest needed to have her tonsils removed and Spring Break allows just enough time for her to recover without missing any school. On Friday she had surgery and since then we've been chilling around the house, watching movies and catching up on projects that have been waiting for our attention, while Evelyn chills on the couch or in her room.
Notice I said most of our family is home. Our eldest was lucky enough to accompany her grandmother on a trip to New Jersey to help watch her cousins. That leaves Katherine here to spend her break watching her sister get over tonsil surgery. Relaxing? Yes. Interesting? That depends on what we find to do besides watching an endless stream of movies.
Which led Katherine and I to create The Donut Challenge. We have heard of various donut shops and bakeries in the area, but somehow we've only managed to try one non-chain donut shop in all the years we lived here. It's time to change that. We're setting out to try donuts from seven shops in Naperville and the surrounding suburbs over the next seven days. Katherine devised a rating system that critiques each shop's donuts on a variety of characteristics, from presentation, to texture, to flavor variety and more. And to make comparisons simpler, we plan to sample a simple glazed donut at each location (if available). By the end of Spring Break, hopefully we'll have narrowed it down to our favorite, without putting on too many pounds.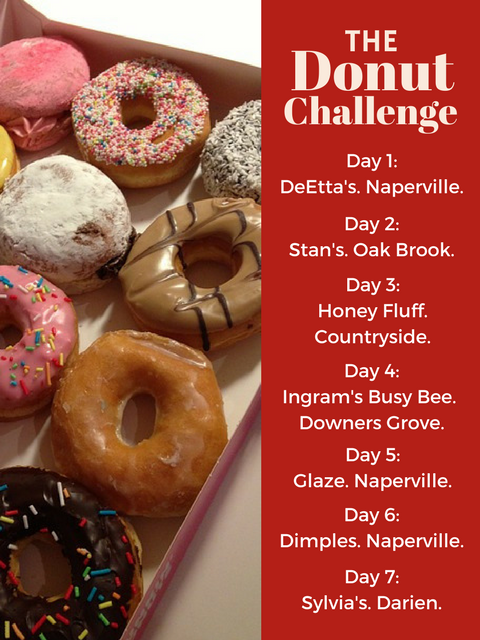 Here are the places we will be visiting on The Donut Challenge:
DeEtta's Bakery in Naperville
Stan's Donuts and Coffee in Oak Brook, IL
Honey Fluff Donuts in Countryside, IL
Ingram's Busy Bee Bakery in Downers Grove, IL
Glaze Donuts in Naperville, IL
Dimples Donuts in Naperville, IL
Sylvia's Bakery in Darien, IL
My goal is to report back on our findings each day. So stay tuned…
Do you have a favorite donut shop? What makes it most appealing to you?