Recently I was talking with a group of moms when the topic of dancing in the rain came up.
"I have always wished I could do that," one mom said. "But I just can't seem to bring myself to go ahead."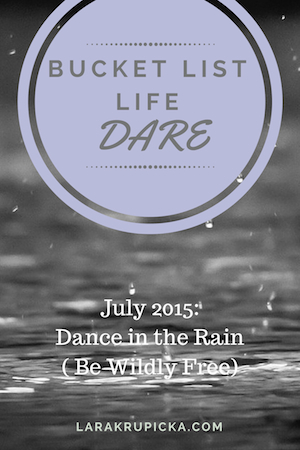 Everyone agreed. We all yearned to be so carefree. But we all had to admit that we had never indulged in such a whimsical romp.
I would bet if you stopped to think for a moment, you have at least one bucket list dream of your own that relates to shedding your inhibitions or otherwise breaking free of rules, expectations or constraints.
Now is your chance! This month's Bucket List Life Dare is to "Be Wildly Free." If you choose to take this month's dare, find something on your bucket list that allows you to drop conventions or somehow express your freedom in a way you haven't before:
– Dance in the rain.
– Eat cake for breakfast or ice cream sundaes for dinner (I have done both!).
– Go up the down escalator.
– Compliment a stranger.
I remember as a young newlywed hearing a pastor's wife I admired share a story of one summer afternoon when she invited her elementary-school-aged son to join her in having an ice cream treat while sitting out on their garage roof. A neighbor boy came by, spotted them and asked if he could have a treat with them. So she sent him home to ask permission and then allowed him to climb out her window to have ice cream alongside her and her son.
I loved this idea! It was so impetuous and rebellious and such a great memory-making activity. I swore I would one day do it with my kids. But I still haven't. Now, thanks to this dare (plus a freezer full of popsicles, Klondike bars and ice cream sandwiches), I have no excuse. Think my kids will join me?
If you take this month's dare and choose to blog about it, link your post back here. Or comment below that you'll be taking the dare and report back about what you did when you check off your goal. We want to hear about your July dare adventures.