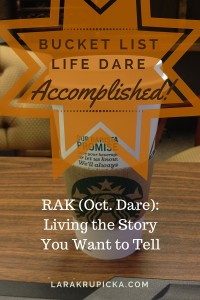 I rolled down my car window to see the Starbucks menu better in the foggy morning air. I never remember the name they use for the extra-large drink. Venti. With a free drink on my card, I could splurge and go big. Then I glanced in my rearview mirror. An older model Buick had pulled up behind me with two women in it wearing head coverings. Would they go big and get Ventis too? My hand shook with giddiness as I put the car in drive to pull up to the window. I was more excited about what I was about to do for those women behind me than I was about the Venti Salted Caramel Mocha the barista handed me through the window.
My completion of the October Bucket List Life Dare to commit a random act of kindness might sound cliché. But I have always wanted to surprise someone by paying for their order somewhere. So that's what I did.
The funny thing about it was how much the barista at the drive-thru window thanked me. It was a dreary morning, so I had hoped to make someone's day a bit brighter with this treat. What I hadn't expected was that it would start with the barista. It was also serendipitous that I had the free drink on my card for myself. And that I'd made a bit of extra cash that week selling an old Halloween costume. A confluence of events that set the stage for my paying-it-forward adventure.
Here is what impacted me most about taking the step to actually pay for a stranger's order: I was living out the story I have been wanting to tell. You see, what has kept me from doing it before was the story I have always told myself about myself – the story that said I'm not one of those people who does that sort of thing. Even though I have always wanted to do it. And so paying for the order of the person in line behind me at the Starbucks drive-thru was more than just a feel-good gesture to complete the month's dare goal. It served as a means of being myself more fully. Living out who I want to be.
Maybe that part shouldn't have surprised me. After all, I believe very strongly in the concept of making bucket lists because of how they help us ground ourselves in our identities and let us live out who we were created to be. But I hadn't seen how sometimes we can hamper our own progress by simply buying into the notion that we aren't, or can't be, the people we most want to be.
For some more inspiration on paying it forward (and living the story you want to tell), check out what one man has done at his pizza shop in Philadelphia.
Did you complete the October Bucket List Life Dare? If so, how did it go? If not, why not jump in now – just because it's not October, doesn't mean it's too late. Chime in on the comments below to share your story (or the one you want to live into).