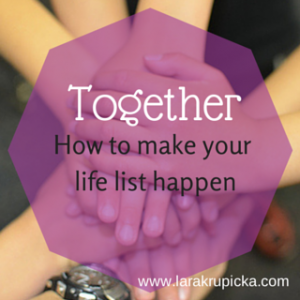 They say it takes a village to raise a child. Yet reality is that life as a mom can be lonely. We often spend our days with just little people, or when they head off to school, by ourselves. More than any other season of my life, I found that parenting has required me to be active in seeking out the company of others. Especially as I tackled my life goals, I needed others and if I'm honest, help.
Writing has been a lifelong dream for me. Like since I was eight years old. So every day that I sit down at my desk to compose a blog post, draft an article, or edit a manuscript, I'm living the dream! Thankfully along the way I have had people who cheer me on, push me when I flag, and comfort me when I fail.
My parents have been a big support. Especially my dad, who every week offers tips from his life experiences, regularly gives me strong & accurate critiques of my articles, and acts as one of my biggest fans. I can't say enough about how lucky I am to have that kind of relationship with him, especially when it comes to my life goal of being a writing professional.
I am surrounded by amazing writers who know better than anyone what this life is like. Jan, Sharla & Suzanne help me every month to polish my pieces to publishing perfection. I'm not as afraid to risk hitting the "send" button on a submission after they've read it. And I learn so much from reading what they write. I also get to interact with top-notch writers as a member of the Redbud Writer's Guild. The sisterhood there is so rich and multifaceted – it's like a sorority of writers.
When it comes to the nuts and bolts of the writing profession and being a parenting journalist, I've been fortunate to have connected with an online dream team comprised some of the best parenting writers out there. That alone is a dream come true that I would never have anticipated. And those connections have given me solace and solutions on multiple occasions.
I wouldn't be the writing mom I am without the prodding, coaching, and vision of my writing coach, Christina Katz. She sets the bar high every time and then empowers me to reach it. Every mom should have a coach like her to help them hit their bucket list goals.
I also wouldn't be the wife, mother, and stronger person I am without the mentoring of Kathy Loewen. Remember the identity crisis that I referred to? She was there to help me draw the line in the sand and then step over it to be more of myself (and then some).
And then there's my family. My three daughters are so great at making sure I get a turn at living out my bucket list. They cheer for me. They encourage me. They motivate me. My husband, my best friend, supports my goals – no matter how crazy. He pushes me to stretch beyond my comfort zone. And I always know he has my back, should I fail.
You see that? One bucket list goal, plus a lot of people equals living the bucket list life. Every day. [This post could also be considered the acknowledgement page that I failed to include in Bucket List Living For Moms. Um, yeah.]
My challenge to you: who do you have in your life to support you in your goals? Who do you know that shares your bigger dreams whom you can learn with and work together toward them? Some of those people will already be in your life (like family). Others, you will need to hunt down if you want to make things happen (like a life coach or a club membership). It will make a difference (in fact, research shows that checking in with a friend about a goal increases your chances of achieving it). If you don't know where to start, I moderate the Family Bucket Lists Moms & Dads FaceBook group, and I'd love to invite you to join us there.
In the comments, share your own bucket list success story. Or lay out what support you intend to seek out to help you check something off your bucket list. [Remember, the Kindle giveaway continues through next Monday.]
Photo credit: teamwork4 by D I on Flickr via CC License