With so many list creation sites out there it can be difficult to choose which one to use. You'll want to consider where your friends are gathering to share their lists. Aside from that, here are some thoughts about 20 sites and 19 apps and what they have to offer. Almost all are free and generally require registering an account to use. Some link with popular social media sites so you can share with your existing networks.
I have also found an app to help you better accomplish your concert-going bucket list.
(Note: this list is updated periodically. If you use a site or app that is not listed here that you would recommend, email me at lkrupicka[at]word-crafter[dot]com and I will look into adding it to the list).

Bucket List Creation Sites
43 Things. Goal-setting site for a list of 43 goals . (8/15/14: site switched to read-only)
BucketList.net. An online community for bucket list creation and completion. Members are called "Buckaroos" and are encouraged to help each other achieve goals.
Bucketlist.org. Online list creator. Features "due date" option. Setup allows selection of types of goals (Travel, Adventure, Experience, New Skills, Family), with a list of five popular items from each to start a list. Check out popular or recently added goals for inspiration.
The Bucket List Companion. Intended to be an inspirational site for bucket listers. Blog posts share a quote to spur action or dreaming or a question of the day to get you thinking. The site also has a list of bucket list ideas – not exhaustive, simply meant to prompt thinking. (10/15 Update: This site has not been updated in two years – and has too little content for me to continue recommending).

Bucket List Finder. This site encourages you to create your list and then find an adventure. What it does well is connect bucket list adventurers with providers. Is driving an exotic car on your list? Search for a place in your area to do this. Looking to ride in a hot air balloon? You'll find that too. The bucket list creation portion of the site is only a simple notebook word-processing function. Use another site or app for that, but come back here to actually find ways to make your list happen. Bucket List Finder members can also add photos and videos of their adventures as well as message others.



Bucketlistly. Describes itself as a "Bucket List Community that sets out to help you unlock achievements in real life." This list creation and achievement site (and corresponding IOS App) includes an "unlock achievement" feature that gives it what the site creators call a multi-player online role-playing game feel where members can collaborate with others to reach their goals. A widget tool allows you to post your Bucketlistly list to your website. But probably my favorite feature is the "What inspired you?" question that follows the input of each new goal you add to your bucket list – a built-in prompt to get to a better "why."

Bucket List Match. An online list-creating site for extroverts. If you don't want to complete your list alone and are looking for others who share your interests, then this is the site for you. According to Bucket List Match: "You can record places or events you want to see today, tomorrow, next week, or next year. Once you have filled out your Bucket List it will be matched with other members that have the same interest. You will be able to contact other members who share the same ideas and possibly do them together."
Bucquistador. Combination list-sharing network and crowd-funding service. Yep, you got that right – you can beg your friends to foot the bill for your fantasies. But seriously, on the plus side for this site is their group goal funding feature. Basically the tool allows you to bring others on board (hopefully friends of yours) who share the same dream as you and can split the cost, such as the group vacation to Greece one user was organizing, which cost each of 7 participants $450 to join in. This can make bigger ticket items more accessible. But having other people pay for your personal dreams? Don't get me started! (Note: Bucquistador is a FOR-PROFIT organization. They keep 4% of all funds raised as a "processing fee").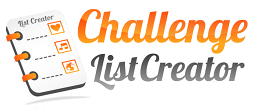 Challenge List Creator. A very simple online list creator. You must have an account. Then you can create a list, either by adding your own or selecting from dozens of examples on the site. Add a category and a due date. Also allows you to track your progress with a progress bar.
Day Zero. Day Zero Project is a goal-oriented list tracking site. Browse their (beautiful) database for ideas, or enter your own. Then choose which challenge you'll tackle, such as the popular 101 Things in 1001 Days. Day Zero's New Zealand-based creator Michael Green operates on the principle of deadlines and competition for goal achievement. If this works for you, then this might be the best site you'll find for turning your bucket list into reality.

Go Mighty. Go Mighty is an invite-only site where users can create goals and connect with others about those goals. Their premise is doing something good for yourself and for others. The site includes list creation and blogging features where members can share their bucket list stories. Goals are posted in a Pinterest-type format with a photo and description. From the sound of it, Go Mighty plans in the future to offer sponsorships – grants to help applicants achieve their goals.

My-BucketList.net. This site is from the creators of Remembered.com and FreeFuneralNotice.com. On this site you create your list. You're then linked to other users with the same interests and also vendors offering goods and services that match your goals. So you may receive discounts or coupons for the Skydiving trip or tattoo session. A social-networking, goal-sharing and documenting site.

my50.com. Online list making/tracking site. Let's create your list, search for ideas, set goal dates for accomplishing items, and mark your progress toward goals. The site also awards virtual "certificates" for accomplishing goals and highlights recent achievements of members. There are also lists of most popular goals and highest achieving members. Allows for integration of social network identities and uploading of photos from adventures.

My Life List™. One of my favorite online list-making/tracking sites. They live up to their motto "Create. Act. Celebrate." Has a list of "significant life experiences" (My Life List™ 90) users can check off and work from in building their list. This site breaks goals down into color-coded categories such as "relationships" and "travel," which does encourage thinking beyond the cliche bucket list experiences. Also allows list items to be broken down into steps or "goals" to be acted on. And it encourages readers to share their stories – a well-done part of this site that serves as inspiration for members.
PopClogs. Online list-making/tracking site. This site is newly revamped and looks sleek, with many goals accompanied by sharp photos with subtle captions. Easily add goals by either creating new ones on your "My Goals" page, or by clicking the "Me too!" button on any existing goal. Click on the "Done!" button to add to your list of accomplishments. Also includes "cheer" and comment features for individual goals, reminiscent of FaceBook's like and comment setup.

Share Buckets. An online list making/tracking site. Create a profile and add items to your bucket list. A progress meter allows you to see what percentage of your list is complete (which sounds nice, except that this function assumes bucket lists are static. But part of the beauty of a bucket list is that it is dynamic – we're always adding more to it, hopefully until the day we actually "kick the bucket"). A plus: the "Bucket List Idea Helper" search bar, which allows you to enter a word or phrase and immediately pulls up similar items. If nothing else, it's useful for phrasing your bucket list goal. The site's home page also keeps a running tally of the most popular items across all members' lists (if you need inspiration). Speaking of inspiration, ShareBuckets has a tab titled "Inspiration," which for a site like this would presumably offer inspiration and ideas for adding to your list. It does not. It's actually what most sites title "about us."

Trip Bucket. A bucket list creation site for all things travel – places to go and activities to engage in while exploring. Includes a database of ideas and lists of "most popular" dreams from members. A unique feature of this site is its "Dream Map" which features pins for the activities in its list databases. The Dream map can be a useful resource when planning a vacation or searching for bucket list options near you.  As with other sites, Trip Bucket requires an account to participate.

Wakeup List. Online list-creating site. Make a list. Browse other members' lists. Read what's popular. Invite your friends. Wakeup List is a bare-bones bucket list creating site. The one distinctive is that it mails your list to you every 90 days as a reminder of what you're hoping to do. Not a bad idea at all, given that research shows we're more likely to accomplish goals when we write them down and regularly review them.

Bucket List Smartphone Apps
There are dozens of bucket list smartphone apps, so I have tried listing primarily the ones with four or more stars in users reviews (and generally with more than a handful of reviews). Apps listed are free unless otherwise noted.
111 Things Lite by Tommy Kammerer (ios App). Create your list from the 111 things in this app, add your own and get living. Simple, no frills bucket list app.
adream by Ray Tan (ios App). List, categorize, share accomplishments, and follow other users. Allows integration with popular social media.(10/15: No longer available).
Before I die by Jimbl (Android App). $.99. Simple list creator/tracker app. Offers a premade list for starting your own. Shows number completed versus total. No social networking capabilities.
The Bucket List by Metosphere(Android App). Simple list creator/tracker app. Allows anonymous sharing of lists, along with comments and likes.
Bucket List Diary by Jornl Team (Android App). $1.99. Allows you to record your adventures as they happen. Enter notes, locations, memorable events and photos. Could be useful if you'd like a dedicated spot for keeping your bucket list memories and want to be able to capture them on the go.
iWish (bucket list) by High Dream (ios app). Highly visual app, dependent on the quality fo the images you use for your goals. Create your list by category, prioritize, create to do's, and share via Facebook and Twitter. Even offers daily inspirational quotes.
My Bucket List by (Android App). Simple list creator/tracker app. Offers due date setting and marking items as completed. No social sharing capabilities.
Reaper Keeper by GSS (Android App). This life expectancy calculator uses data about you and your lifestyle to project the number of years left in your life. It also offers suggestions for improvement. Includes a simple bucket list tracker, as motivation for the changes you need to make. Great companion for bucket list living.
Schemer by Google, Inc. (Android & ios App). List creator/tracker app that allows you to share with those in your Google+ circles. Suggests ideas for you list based on your location (and possibly other factors). Shows popular "schemes" and allows you to add others' schemes to your list.(10/15: No longer available).
Smart Goals by JSRM Creative Designs LLC (ios App). $2.99. Helps you manage goals, habits and dreams. Bucket list dreams are kept separate from goal management, but can be converted to actionable goals. For those times when you need to be productive – in daily life or in moving toward goals. Allows for social sharing.
SquareHub by SquareHub, Inc. (Android & ios app). Creates a private social network for families to use together. Allows for messaging between family members, sharing of schedules and includes a separate list-maker for everyone to collaborate on a family bucket list. This is the only app with a family list feature.