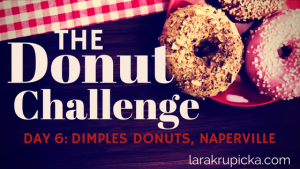 We're nearing the end of this week-long challenge and closing in on selecting the winner. It's fun hearing that friends are joining in and trying some of these donut shops (and others) this week themselves. Too bad we didn't bump into any of them while we were out!
Day 6's visit to Dimples Donuts in Naperville brought up a key factor that often comes into play in bucket list adventuring (that in some ways can make or break an adventure). That's expectation. On the one hand, expectation for what a bucket list goal will be like is what drives us to set that goal, and it fuels our anticipation leading up to it. The downside happens when the reality doesn't live up to what we hoped for. Avoidance of this kind of disappointment is what leads some people to ignore the hype surrounding movie releases or concerts or any other event they're looking forward to. They don't want to have their expectations unrealistically inflated by others' perceptions when they might enjoy it more without the hype.
We did not go into Dimples Donuts with any expectations per se. It's what we found when we got there that set our expectations in motion.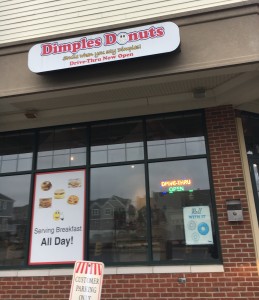 Dimples Donuts of Naperville occupies the end of a quaint strip mall called English Rows on Rt. 59 between 103rd and 104th Streets. The signs on the shop windows were cute and perky, living up to their slogan of "Smile when you say Dimples!" And guess what? They've got a drive through window! Perfect for stopping in for a treat after a soccer or baseball game at one of the fields in the neighborhood, or for an early morning breakfast when you aren't quite ready to get out of your pajamas yet.
The shop was brightly lit, with a few tables and chairs for those deciding to eat in. Their bakery case held a standard variety of donuts, donut holes, fritters and danishes. What caught my eye – and Katherine's – were the vanilla-filled donuts (not to be confused with custard-filled, which they also had). Could it be?! Might a local shop carry my absolute, ultimate favorite donut? The vanilla buttercream with chocolate frosting at Spunky Dunker's in Palatine tops any other donut EVER, in my mind. Followed closely by Krispy Kreme's creme-filled, and then Dunkin Donuts' chocolate buttercream-filled (although Katherine would put Dunkin's chocolate buttercream ahead of all others). None of the shops so far on our challenge sold such a donut. Much to my disappointment.
Dazzled by the prospect of a nearby source for donut ecstasy, Katherine and I veered from our usual selection of three different donuts (to split) and opted to each have an entire vanilla-filled donut each, plus a glazed to share. While we brought home a cake donut for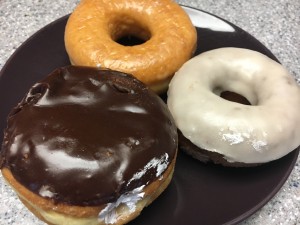 Bethany, it still meant we weren't going to actually sample a cake donut ourselves. But the sacrifice was worth it. Or so we thought…
I nearly drooled the whole drive home (about 20 minutes), thinking about that vanilla-filled donut. Thankfully the shop clerk had tossed a handful of complimentary donut holes into our bag, so we munched on those to tide us over.
Once home, we dutifully tried the glazed donut first. The flavor was wonderful – very reminiscent of Krispy Kreme's signature glazed donuts. And like Krispy Kreme's the donut itself compressed easily when bitten into, unlike some of the springier varieties we've sampled. It had lots of crevices and went down smooth with the cup of Dimples coffee I'd bought. A pretty good donut all around.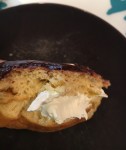 And then there was the chocolate frosted vanilla-filled donut. A light, flakey yeast donut, it sported a smooth chocolate topping and a heavy dose of sweet whipped cream filling. Not. buttercream. Can I say that again? It wasn't a buttercream filling at all. More of a whipped frosting like you might find on a strawberry layer cake. On the positive side, this version was not overwhelmingly sweet. And it was quite fluffy. But then again, it wasn't the vanilla buttercream filling I had been hoping and longing for. Which makes it hard to judge. I'd say it was a very good donut all around, but I felt let down that it seemed I wouldn't be finding any shops near me with my favorite filling.
To any donut shop or bakery owners around here who might be reading: if you decide to sell vanilla buttercream-filled bismarcks you'll have two lifelong, loyal, raving customers. Just saying.
Dimples Donuts Scores 
Presentation: 3 stars
Variety: 3 stars
Creativity/Uniqueness: 3 stars
Texture: 4 stars
Glaze: 3 stars
Overall Donut Flavor: 4.5 stars
Overall Score: 3.42 stars