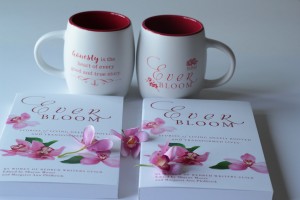 Thank you to everyone who contributed to the conversation last week, and spreading the word about the new anthology, Everbloom, written by members of the Redbud Writers Guild. Since the book launched, I have been hearing positive feedback from readers. It's so gratifying to know that it is impacting people and to know that I am a part of that!
Today I am excited to announce the winners of the launch celebration giveaway. Two lucky winners were chosen at random to receive a copy of the book and a special Everbloom coffee mug.
Our winners are:
Karin M.
Mary S.
Look for an email from me about collecting your prize!
And if you want to learn more about Everbloom there are plenty ways you can do so: watch the trailer below, head on over to the publisher's website, or even join some of the contributors at the Chicago area book launch celebration on Saturday, May 13th at Praire Path Books, 302 E. Wesley in Wheaton at 1pm.