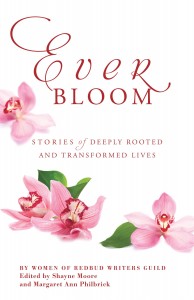 I'm excited to announce another bucket list goal I can check off: being published in a book. I've had hundreds of articles published, and I've written three books of my own. But this latest project is something completely new for me because in it I get to be a part of a compilation and it's through a traditional publisher.
Even better, I share the pages of Everbloom with women I admire, who have captivating stories to share and who are excellent at welcoming others into the storytelling space.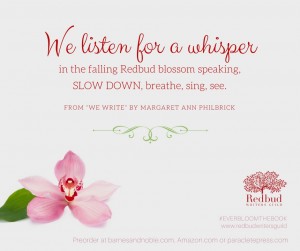 Because we all have stories to tell. Stories of being awakened to injustice, as Jenny Rae Armstrong shares in the collection. Stories of starting a new career, a new ministry after raising children, like Peggy Mindrebo's. Stories of facing cancer, like Kate James's, so masterfully woven in poetry.
In this book though, you won't just find stories. As I said, the women of Redbud Writer's Guild whose words were gathered and edited by two of our own, Shayne Moore and Margaret Philbrick, are a sisterhood of encouragers of words. By design, those in our guild help each other to give voice to their stories and the stories of others. And so this book includes writing prompts at the end of each chapter. Not writing prompts for writers, but writing prompts for every woman. For each of us who, through living life, have our own stories to tell. If not for the world to hear, then just for ourselves.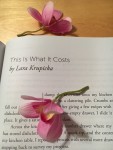 As for me, my essay is the last chapter in Everbloom. It's a story of rearranged kitchen drawers and finding an identity lost to motherhood and people pleasing.
Now for the celebration part: in honor of the book's release today, I'm giving away a copy of the book, along with a Everbloom beautiful mug to two lucky winners. In order to enter, leave a comment below about what stories mean to you, or about a time when you got to share a story, or about someone whose storytelling you have admired. Follow the Rafflecopter instructions below for additional entries.