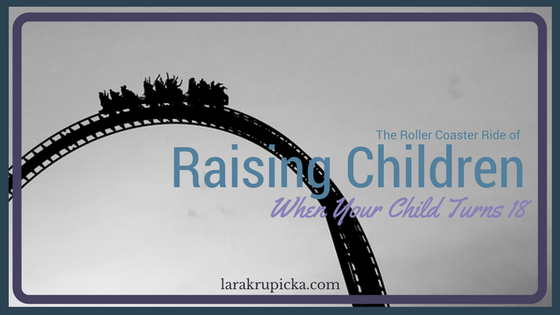 In many ways, raising children is a roller coaster ride. We hop on (at pregnancy or adoption) in anticipation of the thrills, fastening our restraints and holding our breath for what's to come. And then the dips and loop-de-loops of late night feeding, tantrum calming, homework helping and all the rest of what it takes to raise kids consume our focus. The in-betweens of snuggles on the couch and giggling together over bedtime stories fuel us for the next round of whiplashing turns and spins.
And then comes high school. You sense the ratcheting click, click, click of the roller coaster climbing the last long, tall hill when your child reaches their junior year. ACT and SAT exams and college visits remind you that this is it. There's not much time left until this child is grown and done being watched over in such close quarters. Click, click, click. You feel the gravity of it, your body pressing harder and harder against the seat, your face tilted nearly straight up to the sun. And then you reach the summit. The pause just before you'll plummet full speed, terrifyingly fast to the end of the ride.
We're there this week with our eldest. At the summit. We've click-clicked our way through the college application process and college acceptances. The decision is made. And all is still. Come Sunday we'll attend our first senior banquet. Monday she turns 18. The Saturday after is prom. And then award banquets and assemblies, final exams, graduation, departure to work away at summer camp. College drop off. The end of the intense roller coaster ride of raising this girl from birth to young adulthood.
I talk a lot here about family bucket lists and seizing all the opportunities you can while your children are under your roof. Make the most of those 18 years, I've said. Now here I am. And I wonder, did we do it? Did we make the most of that time?
I'd like to think that we did. We didn't check everything off our family bucket list. But we're still a family. And there will still be college breaks and other family time together. We did pour ourselves out on our daughter's behalf, taught her how to treat others well, encouraged her to think for herself, reminded her over and over again that she is loved by us, however imperfectly, and loved unconditionally by God. We're proud of the confident, bright, ambitious young lady she's become. We're as ready as we can be for the ride to end.
Just don't be surprised to see us walking on shaky legs in the next few months. It's been quite a ride, as it is for all parents!
If you want a small glimpse into my own journey during those 18 years, an essay I wrote, "This is What It Costs," has been published in an anthology called Everbloom that releases next week. I'll be doing a giveaway for it here on April 25th. But in the meantime if you want to learn more, check it out on Amazon.