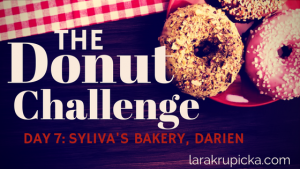 Spring break is over and we're back in the flow of the school year. But I realized being swept up in weekend activities and preparing for break to end, I missed posting about Day 7 of our Donut Challenge. Of course, that might be due in equal part to the letdown we experienced as our challenge came to an end.
Ending any adventure comes with a complication of emotions, doesn't it? If the experience went well, chances are we're wanting to hang on to that emotional high and keep the good times going. But just as often, we're ready to return to the everyday (at least I am) and the comfort of routine. And so the final hours and moments might be a mixture of up and down, reluctance and euphoria.
In the case of our Donut Challenge, it was mostly down.
Admittedly, Sylvia's Bakery had a tough position, being last in our challenge. We'd already savored such delights as DeEtta's sour cream old-fashioned, Stan's Biscoff Pocket and Busy Bee's amazing glazed donut. What was Sylvia's going to bring to "wow" us?
Driving South on Cass Avenue in Darien, we struggled to find the shop. Where our GPS told us to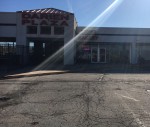 expect it we saw a broad swath of buckled concrete parking lot, flanked by a rundown strip mall called "Darien Plaza." Not to be deterred, we bucked and bumped in The Donut Mobile toward the building, until finally, tucked beyond a jutting section of the building, we saw Sylvia's.
"Maybe it's a hidden gem," I remarked to Katherine. After all, it hadn't come recommended by anyone. I'd simply found it in my Internet searches as I worked on putting together our list. Could it be the discovery I'd been hoping to make when I added it to the challenge? A terrific little donut joint none our friends had ever heard of?
We entered Sylvia's with an attitude of anticipation. For a Saturday morning, the shop seemed too quiet. We were the only customers. A lone young woman stood behind the counter, where photos and signs advertised Easter pastries like babka, houska, and braided Easter egg bread. A model lamb cake stood sentry in a case by the door.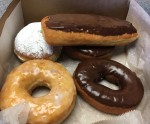 Tucked in a corner of the glass bakery case sat trays of standard donuts – no new flavors for us to try. And so we picked up the usual – a glazed yeast donut, chocolate-frosted cake, and a custard-filled bismarck, along with two long johns for Mike and a friend, plus a cake donut for Bethany. On the positive side, the prices here were the least of anywhere we'd been all week.
A quick hop on nearby I-55 and we were home in a short time, hungry for breakfast and hopeful these donuts would satisfy.
The glazed donut was coated in a nice thick layer of glaze that crackled when I cut into it. The donut itself had a nice buttery taste, with a light, if dry, texture.  Katherine and I both deemed it a little better than average.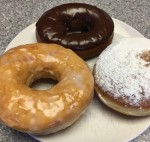 The chocolate frosted cake donut was only slightly crispy on the outside – not quite what we'd come to expect. The interior crumbled easily and had a drying effect on my tongue. Decidedly not enough moisture to it. Neither Katherine and I could place the flavor we were picking up in the donut. Again, it didn't taste like other cake donuts we'd tried and although unusual doesn't have to be bad, this distinct flavor didn't appeal to us.
That left the custard-filled donut. Again, the pastry itself was dry, with a slightly sour custard. Not spoiled tasting, but not a sweet-cream custard. We decided it resembled more of what you'd find in a tapioca than a vanilla custard. A disappointment.
Sylvia's Bakery Scores 
Presentation: 2 stars
Variety: 3 stars
Creativity/Uniqueness: 3 stars
Texture: 2 stars
Glaze: 4 stars
Overall Donut Flavor: 2.5 stars
Overall Score: 2.75 stars
And so our Donut Challenge ended on a down note. Maybe we'd gotten burnt out on donuts. Or maybe we'd been spoiled by places like Busy Bee and Dimples. I do know that both Katherine and I become more aware of the nuances of the pastries we were sampling over the course of the challenge. We learned to recognize what made a donut appealing to look at and how texture comes into play. It helped to sample so many different places in such a short time. In the end, Sylvia's just didn't live up to what we'd come to expect.
Have you ever experienced a letdown at the end of an adventure? How do you usually feel when a vacation or other new experience is coming to an end?