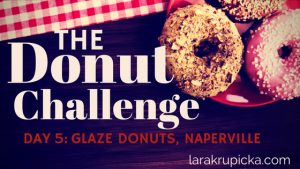 The donut challenge continues and I'm thinking of renaming my car The Donut Mobile. Not that we're trekking far for our donuts, but we are criss-crossing the Western Suburbs in search of donut perfection. The hardest part has been riding home hungry with those donuts calling out to us to be eaten immediately. However, we've resisted mightily and held on until we could get them home and properly documented (aka photographed).
Up until today all of our visits have been to shops new to us. After all, that's what bucket lists are for, right? Trying new things. And once you've checked it off, it's no longer bucket-list-worthy. Or is it? Sometimes I think repeating a bucket list conquest or revisiting a goal destination can work – especially if you are approaching it in a new context. Visiting Disney World is on many people's bucket lists, but that experience becomes new all over again when you return to the Mouse's House with children who have never been there. Learning a new skill might be a bucket list experience that you redo under the tutelage of a renowned master. You don't always have to think of bucket list goals as "one and done."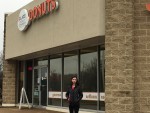 For us, Glaze merited a spot on our challenge list because it has undergone a name (and presumably management) change since we visited it last. Once called Joe & Doh, this little shop occupies the end of a strip mall opposite our local DMV. It's in an odd location, facing at an angle to all the other shops in the strip. But it is visible looking South from West Street (although not at all visible from the DMV – too bad for them).
We had fun surveying the variety of flavors there, since they had a few more unusual ones. Finally we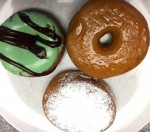 selected a glazed donut, a cake donut with mint icing and chocolate drizzle, and a raspberry-filled bismarck. We like branching out and trying new flavors, so this stop gave us plenty of opportunity. We also brought home a caramel frosted cake donut for my eldest daughter, who arrived home from her trip to New Jersey in the early afternoon.
Katherine and I were impressed by the flavor of the glazed donut – sweet, but not too much so, with undertones of vanilla. It was probably one of the best glazed donuts we've tasted so far, in terms of flavor. However, the surface was very sticky. If you like your glazed donuts that way, it's not a problem. But I'm not big on sticky donuts. And the texture didn't stand out the way the flavor did.
After the custard bismarck from Ingram's yesterday and the Biscoff one from Stan's, we decided to try another version of bismarck, this one with raspberry filling. Again, the pastry texture left something to be desired. In spite of us buying and eating these at breakfast time, all three donuts were a bit dry. In the case of the bismarck though, we willingly overlooked the texture because the filling made up for it. The thick, glistening red raspberry jelly filling encompassed most of the donut's interior, meaning raspberry goodness in every bite. The powdered sugar topping was also plentiful and together with the pastry and filling made it a pleasing option.
Our other choice, the mint-frosted cake donut with a chocolate drizzle wooed us with its enticing appearance. This donut was thick, not as crispy on the outside as other cake donuts we've had and a little dry. The mint flavor worked because it didn't overwhelm the taste of the donut itself, and while it was the sweetest of the three, we found the sweetness agreeable.
Glaze Donuts Scores 
Presentation: 4 stars
Variety: 4 stars
Creativity/Uniqueness: 3.5 stars
Texture: 2 stars
Glaze: 2 stars
Overall Donut Flavor: 4 stars
Overall Score: 3.25 stars
I said above that it sometimes works to return to a previous bucket list conquest when experiencing it in a new context. That's true in this case, mostly because I can't remember what I thought of Joe & Doh. Glaze stood on its own merit for our challenge, not overshadowed by its predecessor.
Have you ever "redone" a bucket list goal or returned to the site of a previous adventure? What made it different the second time around? Could you see repeating an adventure in a different context?