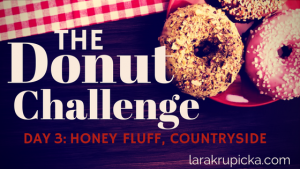 Our donut tour of the Western Suburbs of Chicagoland continues today with a stop at Honey Fluff Donuts in Countryside. As I've done the past two days, I want to point out a broader concept I learned from this visit before giving you our review of the shop. What I realized from visiting Honey Fluff is that not every business needs to be the best or a standout to do well. And not every stop on any adventure will be amazing. In fact, maybe our adventures shouldn't be one hundred percent over-the-top mind blowing. Sometimes it's good to have an ordinary, everyday experience as you explore. I think of it as a sensory reset. Having a break from newness or from being "wowed" gives our minds and senses an opportunity to settle. It prepares us to be amazed again. After all, how much do you notice a light being turned on in a glaringly bright room compared with that same light being lit in a dim space?
When you plan adventures for yourself or your family, consider this factor. Think about whether it would be valuable to build in a "down" day int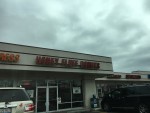 o your schedule, for a longer vacation. Or a break in an intense day-long activity. Or whatever a sensory reset might look like for your given adventure.
Not that Honey Fluff was a sensory reset exactly, but I'm getting ahead of myself.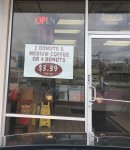 Honey Fluff Donuts is located in a strip mall on Joliet Road not far from I-55 and I-294. An easy stop on a commute or trip across the area. What I noticed as I pulled up in front were the prominent signs featuring their deals. I like deals! 4 donuts for $3.39, plus tax? Yes, please! Of course the afternoon special offering a baker's dozen for $6.80 plus tax would have been tempting too – except I don't want to burn us out on donut eating (which is a very real possibility this week). Given that it's not far from where I work, I can see myself stopping by for a baker's dozen on another afternoon as a treat for the family. Instead this time I bought 4 donuts, which ended up costing about the same as one Dough Boy donut at Stan's Donuts (for comparison's sake). And I think that's what Honey Fluff Donuts has going for them – their prices are reasonable enough for a family to grab a dozen for breakfast.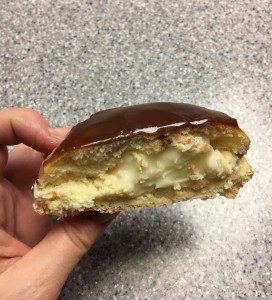 In addition to the requisite glazed donut, I chose a Boston Kreme, a buttermilk cake,  and a chocolate frosted cake. The shop had sold out of their sour cream donuts, which I would have liked to try. Otherwise, their selection followed the standard donut shop listings – nothing unique. Which I don't think hurts them at all. Honey Fluff seems like a solid neighborhood donut shop that isn't out to win accolades as much as they want to offer customers regular donuts.
Among the four we sampled, the Boston Kreme won out for best donut. The custard filling was delightfully thick and creamy smooth and they didn't skimp on it – even cutting it into quarters, we both ended up with mouthfuls of filling (it drives me nuts when a donut is filled unevenly). The chocolate frosting tasted sweet and chocolatey, just as expected and the donut itself, while not flakey like Stan's, held up well to the filling.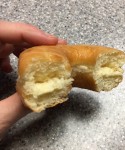 The glazed donut was underwhelmingly basic. A thin layer of glaze coated a donut that was more cake-like than you typically find in a yeast donut. I like that the donut held up well – it didn't squish flat like some do. The flavor didn't stand out. The same was true of the buttermilk cake donut. It was slightly crisp on the outside with a decent cake texture, but I couldn't tell the difference taste-wise between it and the yellow cake donut with chocolate frosting. If it hadn't been evening when we tried them, I would have liked to have had a cup of coffee alongside these donuts. That's the kind of donuts they are – your donut-and-coffee type.
Bearing in mind the above, here are our ratings.
Honey Fluff Donut Scores
Presentation: 3 stars
Variety: 3 stars
Creativity/Uniqueness: 2 stars
Texture: 3 stars
Glaze: 3 stars
Overall Donut Flavor: 2.5 stars
Overall Score: 2.75 stars
Do you have a local donut shop near you like Honey Fluff? And what do you think of my sensory reset theory? Have you ever worked in a break during your adventures?