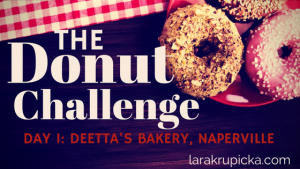 If you're following along, you know that my daughter Katherine and I have embarked on a seven-day tour of seven donut shops/bakeries in the Western Suburbs of Chicago in search of our favorite. Before I give you the Day 1 results, I want to point out something about this challenge: it's interesting because it has a theme. In other words, if you are searching for a way to spice up a weekend, a vacation or a school break, look for a theme to center your activities on. We chose donuts because it had become apparent that there were some good shops out there that we hadn't tried and after all, what were we waiting for? But you might make a summer-long goal of visiting every park in your town. Or maybe you want to check out all the food trucks in a city near you during a given week. Giving yourself a list to work through adds purpose and direction to what otherwise might be an aimless week off.
So for our Donut Challenge, Katherine devised a rating scheme. Each shop will be judged on the following categories: presentation, variety, creativity/uniqueness, texture, glaze (because we plan to try a glazed donut at every stop), overall donut flavor, and overall score. She chose a 5-star scale, where 1 star = bad, 2 stars = worse than average, 3 stars = average, 4 stars = better than average and 5 stars = amazing!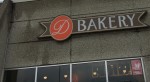 Yesterday we began our challenge at DeEtta's Bakery on Fifth Avenue in Naperville. This isn't strictly a donut shop per se, but on Friday through Sunday they serve freshly made donuts. And they recently won a judge's choice award for their chocolate sour cream old-fashioned at the Chicago Donut Fest.
We drove across town to this little bakery that sits just across the street from Naperville North High School. Katherine surmised that students probably stop by there on Friday mornings to grab a donut. I'll bet she's right! As it was, a steady stream of cars flowed into the small lot there bringing patrons eager for coffee and donuts.
Behind the counter, two women worked serving coffee and packaging donuts for customers. We didn't have to wait long. DeEtta's offers a standard variety of donuts flavors, along with a handful of unique tastes like cinnamon sugar, pecan, and maple bacon. We chose to sample the vanilla sour cream old-fashioned and a chocolate frosted chocolate cake donut (we're both big chocolate lovers), plus we brought home a maple bacon for my husband to try.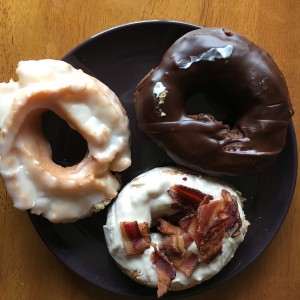 Here's what we thought of DeEtta's donuts: they were good. Actually, I thought the vanilla sour cream was very good. Coated in a thick layer of glaze that gave a little crunch as you bit into it, this donut was melt-in-your-mouth light. The sour cream gave it a moist texture and the edges were crumbly crisp, in a good way. The glaze added just the right amount of sweetness to the outside, without soaking in to make it soggy. I would say the vanilla sour cream was my favorite of the two. Katherine preferred the chocolate cake donut. I did like the flavor – a solid, light chocolate, and the frosting matched it well without being overwhelmingly chocolatey. The texture, on the other hand, was too cakey for my tastes. It literally felt like eating a donut-shaped slice of cake. I like cake, but not in the morning, so that did not work for me. As for the maple bacon, Mike enjoyed the donut but didn't care for the bacon topping. While clearly the bacon had been cooked to a crisp, it became chewy sitting atop the donut. That didn't stop him from eating either the donut or the bacon, though!
Now before I give you our combined star ratings for DeEtta's, I want to note that ratings for flavor variety and creativity/uniqueness may skew toward the donut shops during our challenge. After all, if all you are serving is donuts (and coffee), then you have space and time to experiment. On the other hand, bakeries may choose to narrow their offerings to a group of tried and true flavors, while also giving customers other pastry choices such as coffee cakes, muffins, and scones. I'm not sure we should hold that against them. We may have to adjust our scoring as we go along.
That said, here is what we thought of DeEtta's donuts:
DeEtta's Bakery Donut Scores
Presentation: 3 stars
Variety: 3 stars
Creativity/Uniqueness: 3.5 stars
Texture: 4 stars
Glaze: 4.5 stars
Overall Donut Flavor: 4 stars
Overall Score: 3 2/3 stars
Have you been to DeEtta's for their donuts? If you have, which donut(s) is your favorite?