Your teen loves Harry Potter. A trip to Universal Studios' Wizarding World of Harry Potter would make her year. But you're frugal. How do you reconcile the two? How do you create a bucket list experience of it, without breaking the bank?
The secret is knowing where to splurge and how to find deals. I'm going to share with you how earlier this month I managed to take four people on a five-night trip to Florida from Chicago that included airfare, hotel and 4-day Park-to-Park tickets for Universal Studios Orlando for just over $2,000, while still managing to wow everyone in the family.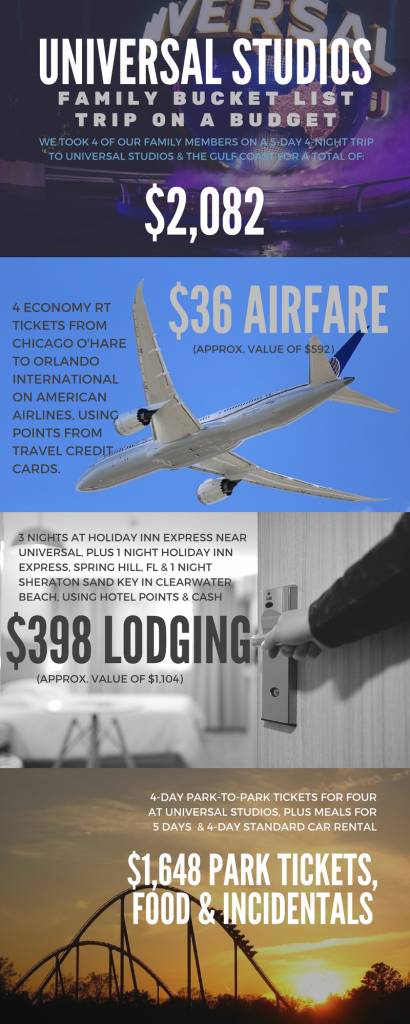 There are multiple methods for saving on each aspect of the trip. The details I'm sharing here offer just one example of how it can be done. What I want to key in on is how saving on some aspects of our trip gave us room in our budget to splurge on others (although "splurging" didn't always involve money – but I'll get to that later).
Here's how it worked for us:
AIRFARE: 4 economy round-trip tickets from O'Hare International (ORD) to Orlando International (MCO) on American Airlines
COST: $36.39, plus 56,673 Citi Thank You Points
HOW I DID IT: Early in 2016 I applied for a Citi Thank You Premier card. The card came with a bonus offer of 50,000 points (now 30,000) after spending $3,000 on the card within 3 months. It earns 3 points per dollar on travel (airfare, gas, tolls, etc.) and 2x points on dining & entertainment. After earning the bonus I continued to use the card primarily for gas purchases. When it came time to book our flights, I looked for Economy MileageSAAver award seats on American Airlines using airline miles I have in my AAdvantage account. This would have cost me 25,000 miles plus $11.20 each, RT. But I couldn't find anything available for four people during the weeks I wanted to go. Then I remembered my Thank You Points. I did a search for award tickets again, this time using the Citi Travel Center. That's where I found the RT tix for 56,673 points and $36.39 (versus 100,000 miles and $44.80). SOLD!
I would call that an intermediate/advanced miles & points booking. Although award seat availability can be hard to find on American itself, you may have success doing a straightforward booking with miles there or with a different airline (especially Southwest, where you can book any available seat using miles). If you can use airline miles or credit card points (like Citi Thank You or Chase Ultimate Rewards*), your travel costs will drop dramatically. You don't have to be a frequent flyer to accumulate those miles either, as I just demonstrated above.
HOTEL #1: 3 nights for 2 doubles at the Holiday Inn Express Nearest Universal Studios (not to be confused with the Holiday Inn Express Across the Street From Universal Studios – which was actually closer to the park gates).
COST: $338.91
HOW I DID IT: I'm an IHG (Intercontinental Hotels Group) Rewards Club member. I have points I could have used, but not quite enough for all 3 nights. Or I could have used my annual free night (from having a Chase IHG Visa). But at $95.09/night, the IHG Rewards Club rate was low enough that I chose to book with cash and save my points and free nights for another occasion.
HOTEL #2: 1 night for 2 queen beds at the Holiday Inn Express in Spring Hill, FL.
COST: 10,000 IHG points plus $59.50
HOW I DID IT: As with Holiday Inn Express in Orlando, I booked through the IHG Rewards Club. This time I used a combination of cash and points (which is handy when you want to stretch your points stash). The regular points rate was 15,000 points, so effectively $59.50 bought me the additional 5,000 points I needed. Again, this was a good enough deal for me and allowed me to hang on to my free night for future use.
Note: I earn IHG points by using the IHG Visa. You can earn bonus points when you first apply for the card and spend $1,000 in three months (as of Jan. 2017 the bonus is 60,000 points, which would get you up to four free nights at one of many of IHG's hotels). IHG hotels happen to fit our needs well, so this is a card I'm happy to pay for, especially with a free night certificate at your card anniversary. The $49 fee (waived the first year) is worth it!
HOTEL #3: 1 night for 2 queen beds at Sheraton Sand Key Resort in Clearwater Beach, FL
COST: 10,00 Starwood Preferred points
HOW I DID IT:  First of all, you have to know that this felt like a splurge! We had a room on the 8th floor (Club Lounge was on the 9th), with a partial view of the Gulf and beach. In other words, this was what Sheraton calls a "Deluxe" room. I had booked a "Classic" room, but I also let the hotel know that this was a special visit for us as it was our girls' first time on the Gulf and I wanted to make it memorable for them. If there was a room available, would the hotel consider giving us a nice view. My request paid off and it had the exact effect I was hoping for. We were all wowed – not just by the room and the view, but by the hotel and its location in general. The pool area was beautiful and tropical feeling, the beach pristine and inviting. If only it hadn't been a high of 50 degrees the day we were there! Our girls still enjoyed finding seashells on the beach and we all spent some time relaxing in the hot tub.
The other reason this felt like a splurge is that SPG points are harder to earn. I applied for the SPG Amex card in 2015 and received 30,000 bonus points after spending $3,000 in 3 months. So this one night cost a third of that bonus. In my book though, those points were totally worth that free night! The cash value if we had paid for that room would have been $483. The enjoyment we got from it? Priceless!
PARK TICKETS, FOOD & INCIDENTALS: $1,648
HOW I DID IT: Park tickets is one area where I don't have many tricks to share with you, other than comparing prices between Universal and Undercover Tourist. Even so, the cost of park tickets doesn't vary much (although if you know you're going to visit Universal Studios, don't wait to buy tickets as they occasionally implement price increases. It ended up costing us about $80 more through Undercover Tourist when I finally bought them than when I first priced them out – not a big deal, but every penny counts). That's why it's a good idea to maximize your savings on travel & accommodations.
If you're not using points for the hotel and you belong to a warehouse club, then it's definitely worth looking at their packages. We could have saved $150 on the cost of hotel and park tickets combined if we had thought to look at Costco's offers before booking the non-refundable rate we got at the hotel.
RENTAL CAR: If you're only visiting the theme parks, then you probably don't need a rental car. Just be warned that the shuttles that run from hotels outside Universal Studios Resort have a limited schedule and limited seats. Don't count on being able to hop on at any time. That said, we were comfortable walking from the Holiday Inn Express to the park. It was only about 25 minutes and for us it was good to be outside in the nice Florida weather (having left wintry Chicago the day before).
We did rent a car for our trip because we wanted to spend some time over on the Gulf Coast. I ended up finding the best deal through Costco. Which is to say, take a look at all the options you have for booking a rental car. AAA, warehouse clubs and even some auto insurance networks offer discounts on car rentals.
FOOD: There are ways to save on food without buying groceries and packing sack lunches (which Universal Studios discourages). We did bring a handful of snacks along on our trip, a few of which we brought to the parks each day. That helped when we wanted a quick bite and didn't want to blow a ton of cash on theme park snacks. I also made sure we stayed at a hotel with free breakfast. Yes, I know free hotel breakfasts often aren't that great. But yogurt and fruit is about the same anywhere, if you're okay with that. Cereal too. In our case the vacation was about the parks, not the food.
We also kept in mind portion sizes when ordering in restaurants. Even on site at Universal, the portions were large. For the most part, we would split meals, which always seemed to be enough to fill us. On occasion the girls or I would get soup or salad, which was lighter and less expensive. Lunch we ate at the parks because it was more convenient. And then usually we ate dinner at an outside restaurant. Having Chick-Fil-A Cow Calendar cards came in handy for Mike & I to save money on one meal (although the girls forgot theirs). I think also if I had planned ahead, I would have picked up a few chain restaurant gift cards from our Discover Cash Back rewards account. That would have cut the cost of dining when we weren't in the parks.
We did occasionally splurge on dining though (remember, I'm all about splurging strategically). Trying Butterbeer in Diagon Alley and eating at The Leaky Cauldron were amazing experiences that we didn't mind spending more on. And a seafood dinner in Tampa was another worthwhile splurge.
INCIDENTALS: I want to point out one splurge in this area. In a previous post I go into more detail about this, but I felt I would be remiss not to include a mention here as well: we bought our daughters each an interactive wand at Universal Studios Wizarding World. At $50 each, they were beyond our usual budget. So instead we made them part of our girls' Christmas gifts (their dad presented them with bow-topped dowel rods on Christmas morning, with the promise of the real thing on our trip). This splurge, more than any other, made the trip for our girls. Again, read my previous post to learn more about that.
Phew! I know that's a lot of information, but I thought it valuable to share with you details about how it's possible to keep your budget under control while making an epic trip like Universal Studios that's memorable for everyone.
Feel free to share your own tips for saving on a theme park trip in the comments below. It's ideas like these that make it possible for families to take their own family bucket list trip sooner.
*While I don't participate in affiliate programs, this is a personal referral link. This means I earn points when you sign up. I only include this because I highly value the Chase Sapphire Program and heartily recommend it to anyone who asks about traveling using miles and points.