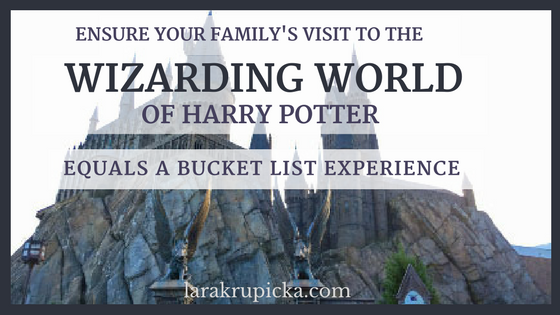 Next to Disney World, a trip to Universal Studios tops many family vacation bucket lists – especially with the addition and expansion of The Wizarding World of Harry Potter in the last few years. And rightly so! Universal has come a long way in creating amazing experiences for their theme park guests.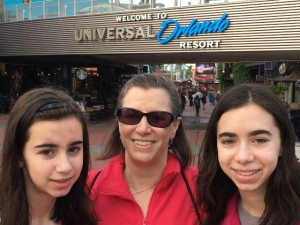 Since our family enjoys Harry Potter, and our youngest, who is a big fan, was feeling left out of the fun after her two sisters had summer adventures (at camp and in Europe), my husband and I felt the time was ripe for a trip to Universal Studios Orlando. And while the trip alone would have been bucket list-worthy, we made a few key choices along the way to ensure it exceeded our kids' (and our) expectations. And we made one or two goofs that I want to share about to spare you the same mistakes.
By the way, we're a frugal family, and while theme parks don't equate with small budgets, I did find ways to save significantly on this trip. I'll share those tricks in a later post.
Here are the highlights of our Wizarding World experience (along with a few tips):
We arrived in Orlando during our kids' second week of Winter Break. It also happened to be a lot of other schools' winter breaks too, so the parks were crowded. At times, it was difficult to even walk through areas of Diagon Alley in Universal Studios or Hogsmeade in Islands of Adventure. We made the best of it, and generally were able to plan our tour of the parks to avoid the areas and attractions that were the most popular at the time (for example: on one occasion instead of waiting 60 minutes to ride the Hogwarts Express between parks, we chose to make the 15-minute walk). If crowds bother you, or you'll only have one day at the parks, you may want to try to take your trip during a quieter season.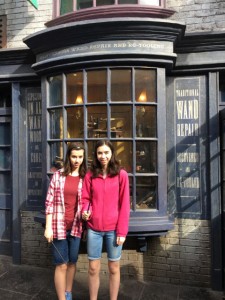 When we entered Universal Studios Theme Park on the first day, after jumping into the line for Minion Mayhem (which turned out to be an excellent choice because we only waited about 10 minutes and never saw a line that short afterwards), we immediately went to Ollivander's Wand Shop in Diagon Alley to buy interactive wands for our girls. Now you can either go directly into the shop itself to buy a wand, or you can wait to see a show in which the Wand Maker helps a wand choose a park guest. Since the line was short for the wand choosing show, we went to it –  but even so we still waited about 20 minutes. We enjoyed the show, but I wouldn't suggest waiting much longer than a half hour. For our two girls (13 and 15 years old), finding wands on their own in the shop was much more exciting.
Bucket list tip for The Wizarding World: The interactive resin wands (either character wands or Ollivander's "wood")  are not cheap at $50 each for a wand and map of spell locations in a classy box. But all four of us agreed they added a priceless dimension to our visit. I've advocated before for strategic splurges that take experiences to the next level. The interactive wands would fit that category. Being able to "cast spells" to make it rain or turn on lights or reveal invisible ink (shh! that one is at a secret spell location), was cool! And the fact that the wands had to be swirled and flicked in just the right motions showed that Universal Studios knows their audience well.
Another tip: If you have a child who loves stuffed animals and they want to "adopt" a Pygmy Puff (and who wouldn't, they're so adorable!), make sure they go through the naming ceremony at Weasley's Wizard Wheezes. Katherine, our fifteen-year-old did this and was enchanted by the process, and by Genevieve, her pink fluffy Pygmy Puff.
Our bucket list "miss" in The Wizarding World: We didn't have our girls buy costume accessories early on. All throughout the parks we saw folks decked out in wizarding gear, some in full Hogwarts uniform, many others just in their house robes. Being surrounded by people in costume made the experience more immersive – being in costume herself would completed it for Evelyn, our Harry Potter fangirl. However, in our case it wasn't until the last day that our girls chose their souvenirs. Evelyn bought the Gryffindor tie and headband, along with a patch for us to iron on robes we'll sew ourselves ($110 for official robes was too much for her souvenir budget). If I had it to do over, I would have encouraged her to buy the accessories on the first day to wear throughout the rest of our visit.
What makes The Wizarding World of Harry Potter so magical is how immersive it feels. Both areas are fairly well hidden/shielded from the rest of the parks – Diagon Alley more so than Hogsmeade (we even had other park visitors stop us to ask where it was, when they had just been standing right outside it, unaware). Music from the movie soundtracks plays continuously in the background, one of my favorite parts of being in those areas, and no detail is spared in the buildings themselves. In fact, keep your eye out for actual props used in the movies. You can also eat in both The Leaky Cauldron (Diagon Alley) and The Three Broomsticks (Hogsmeade) – for sure you want to try the Butterbeer!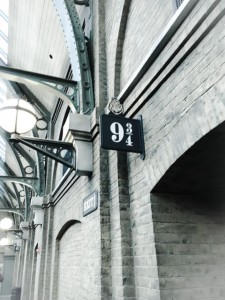 If The Wizarding World is on your family's bucket list, consider splurging on those elements that complete the immersion: buy the interactive wands (or one for the family to share), let the kids dress up in costume (save money by making or buying your own before you go), and have a meal in one of the Wizarding restaurants. You won't regret it!
Editors note: You might want to hold a Harry Potter movie marathon in the weeks leading up to your trip. We did and it was great to have the scenes fresh in our minds to recognize the significance of everything we were seeing at the park.