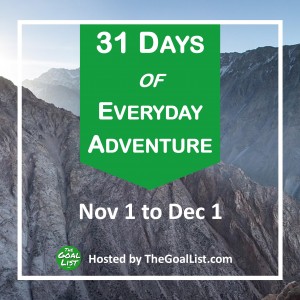 What a month it has been! I had every intention of participating in The Goal List's 31 Days of Everyday Adventure (you can read more about it here and here). And indeed, I looked at the list of small things to do every week and noted what I would do. Each week I accomplished one thing. But there were also a number of not-so-everyday adventures in our family that kept me from being able to catalog those adventures here. The month is not over though. I thought I would give a recap of what I did now, in hopes that you'll be inspired to continue with your own everyday adventures in December (and beyond). And be sure to check out other 31 Days of Adventure Posts on McVagabonds and Life's Simple Adventures.
Week 1 – Write a Gratitude List
I posted about this at the beginning of the month. I have to say that it helped me to keep a thankful frame of mind all the way into Thanksgiving week. I think it could make a good activity to start each month with a gratitude list.
Week 2 – Compliment Someone You Don't Know
I always feel awkward handing out compliments to strangers. Like what if they think I'm being nosey or too personal? But most of the time I don't let that stop me, simply because I know how good I feel when someone I don't know notices something they like about me. In this instance, I was out shopping and saw a woman in a swingy long coat that had a very glamorous flow to it. It made her look confident and classy, but at the same time approachable. So when she passed me by I mentioned that the coat was very becoming on her. She smiled and thanked me and then flowed on her way. Maybe she didn't need my admiration. Then again, I do think for us women it helps to be reminded that we should wear things that make us feel good. Because life is too short to always go out looking and feeling dumpy.
Week 3 – Go to bed early today, so you can enjoy tomorrow more.
I tend to get distracted with reading at bedtime, either a good book (I'm currently devouring my daughter's copy of Cinder – we met the author this month, which of course is an out-of-the-ordinary adventure, not the everyday sort) or mindless Internet drivel. This often means I turn out the light later than I intended. But I did get to bed by 9:30pm one night. That's early. And it felt like an indulgence. The next morning I asked myself why I don't do that more often. I indulge in watching Netflix while I fold laundry (if you're a Downton Abbey fan, you should check out The Crown). Why not indulge in calling it a night earlier at least once a week?
Week 4 – Meet Someone New and Strike Up a Conversation
This one feels a little bit like cheating. We were invited for dinner at a friends' house along with three other families this past weekend. I had met two of the women before, but didn't really know them. So it was an entire evening of conversation with new people. None of them were American born, so it made things even more interesting – learning about their countries of origin and what brought them to the United States.
Week 5 – Give Away Something You Own to Someone Who Will Appreciate It
I hadn't set out to accomplish this adventure goal intentionally, but when the opportunity presented itself last night in my crawl space, I had to seize it. I can't divulge what the item is, but while I was putting away bins from Christmas decorations, I came across a box in the crawl that happened to contain something on a family member's Christmas wish list. It's brand new and was given to us at a special event last year. We had tucked it away in the crawl, unopened, for the exact reason that we knew eventually someone else would appreciate it more than we did. And I had completely forgotten about it until I opened the box.
Have you participated in the 31 Days of Everyday Adventure Challenge? If not, what are you waiting for? Pick one of the adventures and give it a go. Shelly did a great job making the challenges doable and interesting. And many of them involve other individuals, which means you have the opportunity to impact someone else's life for the better in the process. Which is what this season of year is about – bringing light and joy to others.