I have talked often about the way going after life goals brings connection (it's the theme of my video course, Build Stronger Bonds Writing Bucket Lists). And usually I'm talking about connection in the present tense, with those in your life today. But this past weekend in Chicagoland I witnessed how powerful that bond can be even with those gone from our lives. Like my grandma.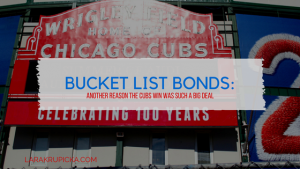 Grandma Seman loved sports. When she moved from her home in Hawaii to a suburb near ours a few years after my grandfather died, I got to spend a lot of time with her. On almost every visit to her house, her tv or radio would be tuned in to a Chicago sports game. To this day, I take great comfort in the hollow sound of a ball game on AM radio. Because it brings back those days at Grandma's house.
While she enjoyed sports year round – football, basketball, and hockey, Grandma's favorite team by far was the Chicago Cubs. She would sit in her recliner with a crochet project in her lap and give her own play-by-play of the game. She'd exclaim over runs scored and scowl at what she thought were poor calls. And more than anything, she'd talk about the players. Grandma knew each one by name, reputation and background. Andre Dawson and Ryne Sandberg came up most often. But she could chat just as fluently about Mark Grace, Shawon Dunston and other ball players. And like many Cubs fans before and after her, Grandma suffered disappointment after disappointment.
It's hardly news that the Cubs finally had their day when they beat the Los Angeles Dodgers in the fight for the National League Pennant on Saturday. All over the Chicago Metro area longtime fans danced for joy, sang "Go, Cubs, Go!" and shot off fireworks. My own daughter shrieked and bounced all around the house (and she's only waited 17 years, nowhere close to what others have).
My first thought was of Grandma. How thrilled she would have been to see her Cubbies get to the World Series. As she did with other Cubs' wins, she would have talked like she never had a doubt they'd do it. Grandma always had faith that the Cubs could go far. Seeing them win the National League pennant would have been on her bucket list. Which made it a bittersweet day.
Turns out, a lot of other people were feeling the same way. That win brought back the memories of so many Cubs fans who longed to see their team go to the World Series. Social media lit up with people giving shout-outs to those they wished had been alive for that day. The connection in that moment of a long-awaited dream come true spanned generations and even death.
If you ever wondered about the power of a life goal to bond people together, talk to a Cubs fan about last Saturday. They know that power.
It also explains why Steve Goodman's song, A Dying Cubs Fan's Last Request, has such staying power. Take a look: