What is something you do well? Have you ever thought of passing along your expertise to someone else?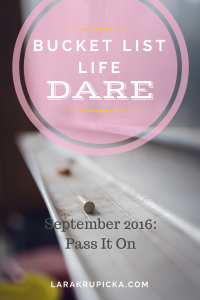 I have been sewing since I was 16 years old. After making a skirt in Home Ec class in high school, I was hooked. Sewing is not for the faint of heart. For one thing, there are the patterns. If you've ever tried to follow one, you know what I mean. It's like reading a foreign language. Just when you think you have one figured out, something goes awry in the execution. Thankfully, my mother is an excellent seamstress. For many years I consulted Mom when problems arose during my sewing projects – which was pretty much the case with everything I made. Knowing that I had expert help on call gave me courage to stick with it.
I still remember the first time I completed an entire project without having to seek Mom's help. It was a Halloween costume for my daughter. Every year when the girls were young I would create one new costume. With three girls that meant someone got a new one while the others had to choose something from the closet. Each year I sought Mom's help with the costume. Until the fifth one. By then I had been sewing for nearly 20 years. That's how long it took to master the skill of sewing.
Sewing is something I love to do that I'm proficient at. And it's something I gladly teach to others when I can – my daughters, children of friends. But I still feel like I have more to give when it comes to sharing this knowledge. "Teach someone how to sew" remains on my bucket list.
My goal for this month's bucket list life dare is to spend time teaching someone a new sewing skill. I think my youngest (who is already comfortable around my sewing machine as a quilter) may be needing to learn how to make button holes. But if other opportunities to teach sewing arise, I'll seize them too.
In light of the new school year, I'd like to dare you to add an element of teaching to your bucket list, a way use what you know and pass it on to others. Even if you can't accomplish it this month, think about completing the phrase, "Teach Someone to/How to…" as an item for your bucket list.
---