How many spring breaks do you have left with your children? What will you do to make this spring break memorable?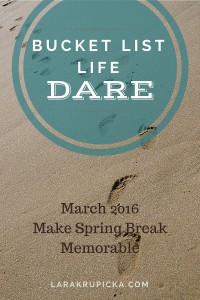 Bethany, my eldest, received a packet in the mail this week notifying her that she has a summer job as a lifeguard at a camp in Wisconsin, 100 miles from our home. It wasn't a complete surprise. She applied in December and had an interview at the camp early last month while she was there helping with a junior high retreat. By her estimates the interview had gone very well. But part of me was still hoping she wouldn't be chosen for the job. I have counted the number of spring breaks and summer vacations we'll have with her before she heads off to college. We're down to two of each. How could we give up one, especially a three-month long stint like summer?
As Gretchen Rubin says in her book, The Happiness Project, "The days are long, but the years are short." Nowhere is this more true than in parenting. I can remember when my girls were toddlers and babies, counting down the years until they'd go to preschool for a few hours each day. Not that I wanted to be rid of my three little girls, but I was exhausted by them and found focusing on the impermanence of those physically demanding days a source of comfort. The days spent changing diapers and wiping spit-up from my shirt sleeves, while little people with an incessant need to know "why, Mommy?" clung to my jeans and begged me to play another game of Candyland, dragged on and on.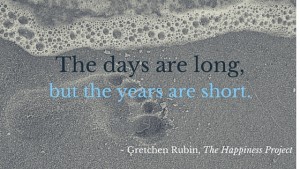 But now here we are. Those little girls are twelve, fourteen and sixteen years old. This spring break I'll be driving Bethany out East to look at colleges. We're taking my mom with us for the journey and planning to do some sightseeing and vacation-like activities while we're there. A tour of the Biltmore Estate in Asheville, NC. A stroll along the National Mall during the Cherry Blossom Festival in Washington, DC. And some time hanging out with my aunts and uncles in Pennsylvania on our way home.
It will be a different spring break, for sure. I'm sad to leave behind my husband and the other two girls, but we all agreed that it would be less fun for them to hang around while we tour campuses and sit through information sessions. But it also promises to be a memory-making excursion. Three generations of women set loose on a road trip from the Midwest to the East coast. It has the makings of a movie plot.
So my challenge to you this month is to take note of how short the years are for your family. How many spring breaks do you have left with your growing children? What can you be doing during this year's spring break to store up memories for the years to come?
Each spring break is an opportunity to break free of the everyday chaos and hurriedness. It is an invitation to hang out, sleep late, play games, talk, travel. To make memories. More than likely your spring break plans are already set. Maybe you've booked a trip or bought tickets to a local event. Whatever you have on the calendar for your kids' spring break, I dare you to make it one for the books. Pull out your family's bucket list and decide you're going to complete something on it this year, THIS spring break.
Because you never know when a letter is going to arrive in your mail notifying you that the time you thought you had left with your kids has just shrunk a little further.
Tell us in the comments, what will you do to make the most of spring break with your kid(s) this year?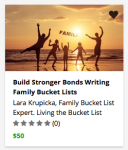 If you want to make sure you're capturing the most interesting, motivating ideas for your family's bucket list – the kind that bring you closer together, you need to take my online video course, Build Stronger Bonds Writing Family Bucket Lists. Now through the end of March you can get the course for 50% off, using this link. Purchase it now and watch it together over spring break. Or save it for those rainy days in April. It's self-paced and packed with resources (many of which aren't available anywhere else).
[Image via Pixabay]