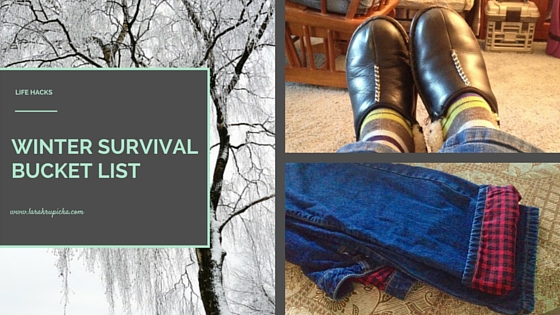 One January when Evelyn, our youngest, was in preschool, we took our kids to Disney World in Orlando. It was a bucket list trip (our second as a family, but the first for Evelyn to really experience it) and I expected that the real excitement would begin when we stepped through the gates of the Magic Kingdom. That was the quintessential bucket list moment I was looking forward to (that and seeing our youngest interact with her favorite Disney characters). What I didn't expect was my own reaction upon stepping out of the airport shuttle at our hotel.
I began crying.
The 80 degree air and the sunshine, the blooming flowers and the freedom of walking around in short sleeves and sandals overwhelmed me. I hadn't realized the toll that weeks of winter weather beating down on us in Chicagoland had taken until I experienced relief from it. Previously I had understood, in concept, why snow birds fled to the south and why people we know often take winter trips to Florida, Southern California and Arizona. But I hadn't been prepared for how much I needed the break myself.
Since then I've been a little more aware of my need for respite from the effects of winter in the Midwest. I've implemented practices and found resources that help me weather (if you'll allow the pun) this season a bit better. With that in mind, I offer you my list of winter survival must-haves that should be on everyone's bucket lists to own/experience at some point in their life.
Winter Survival Bucket List
– Smartwool® socks. I have always been a cold person, but I hadn't thought much about how a good pair of socks can make a difference – until I borrowed a simple pair of thick athletic socks from a friend. Wow! Since then I've slowly outfitted my wardrobe with a variety of extra-warm socks. My favorite are Smartwools. They are warm and not itchy and come in a variety of cute patterns. I wear mine with Mary Janes to work because they look nice enough to be seen. (By the way, I've been looking for a way to help provide socks to the homeless, because of the difference I've seen a warm pair make. Today I discovered Bombas – a one-for-one program where every pair of socks you purchase buys a specially designed pair that goes to a homeless shelter. So now that I already have a few pairs of Smartwool®, Bombas are going on my bucket list).
– Sheepskin-lined shoes. I stumbled upon a pair of Merrill shearling clogs on a clearance rack one year. I couldn't believe the difference in how warm I felt while wearing them. It was like having slippers on all day!
– Heated car seats. If your car seats are leather, like in my husband's Honda Pilot, then these are a must. My car doesn't have heated seats, but for one winter I did enjoy a plug-in heated car seat cover that I picked up at Aldi for cheap. It only lasted one season, but it kept me warm while it did. Someday I'll have built in heated seats.
– Remote car starter. Since in the coldest weather I tend to scurry from house to car and back, it's all the better that the car be warm before I get in. One year my husband installed a remote starter on my car as a Christmas gift. It was soooo nice to be able to stand inside and with a push of a button have my car warmed and ready a bit later. My current car doesn't have a remote starter and I have to say that I do miss it.
– Fleece- or flannel-lined pants. I love jeans that are lined with warm fabrics. Denim is just….brrr! So it's much cozier to put on a pair with a flannel or fleece inside. It's better than having to wear thermals underneath. And for Christmas this year my mom gave me a pair of fleece-lined leggings. They're as awesome as they sound!
– A weeklong getaway to somewhere warm in January or February. The Caribbean. Hawaii. Even Florida, Arizona or Southern California. The Gulf Coast. I haven't escaped winter that way since our Disney World trip seven years ago. So back on my bucket list goes a tropical winter getaway!
What is on your Winter Survival Bucket List?