For 2016 I plan to read two books each month.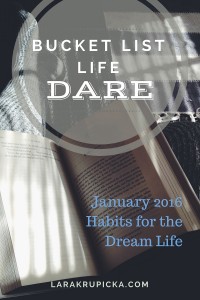 That's not all I plan to do. And it's not even really a bucket list goal. But setting that intention for the year, I believe, is going to be pivotal to the realization and enjoyment of most of the bucket list goals I hope to accomplish over the next twelve months.
Why is that? I have two main reasons for making reading a priority for this year:
It means developing a regular habit and habits are one of the surest ways to reach your goals. I've learned over the past few years that small steps taken on a regular basis build up to big goals achieved. I'm always on the lookout for what day-to-day habits I need to incorporate that will bring me closer to the life I want to be living (habits for the dream life). I noticed last year that I was missing the joy I've always gotten from reading. I love to read books, but had let other activities displace that (like mindlessly surfing online). I want the joy back on a daily basis.
Reading stimulates learning and growing, which also happen to be part of living out bucket list longings. And while we can't all be achieving bucket list goals every day, we can be moving toward them through learning and growth (often, by reading). I have so much I still want to learn and experience. My bucket list reflects that. But with what I hope to accomplish in 2016, I can see where spending time reading in advance of going out on adventures can make them more meaningful. For example, I'm taking my husband to Italy this year for our anniversary. Understanding the history and the significance of the art and architecture we'll encounter will bring more life to what we're seeing. I also feel like I'm not as engaged with social justice and being compassionate toward the poor and oppressed – something I hope to remedy in part through reading.
This month's bucket list life dare isn't about creating a reading plan for 2016 (although if you do, please chime in. I'd love to hear what's on your list). It's about building a habit that brings you closer to living your dream life.
So think about it. What is one simple action you could take every day that will do that for you? If you don't have any ideas, why not use the step-back approach (it's one I turn to on occasion for finding a starting place toward a big goal)? Here's how it works: choose a big goal – something you would like to achieve or a way of living you want to reach. Then ask yourself, what would you be doing just before you reach that end state? And what would you have to do right before that? Keep stepping back to the previous action until you get to where you are today. Then make that first step the one you will choose for this month's goal.
The January Bucket List Life Dare: Choose a habit that will lead toward a life goal. Practice it today. Then repeat each day for the rest of the month.
Photo by Kate Williams on Unsplash via CC License.