In July I dared readers to step out and conquer a bucket list goal that required them to let go. To be wildly free. Something like dancing in the rain.
For me that expression of whimsical freedom came in the form of sitting out on my roof eating ice cream sandwiches with my kids – a daring bit of fun that always appealed to me, while at the same time sort of freaking me out. I put it on my bucket list long ago in hopes that one day I would get the courage to do it.
In response to the dare, I pledged to take my kids out on our roof for an ice cream treat by the end of July… And I did it (just barely before the end of the month)!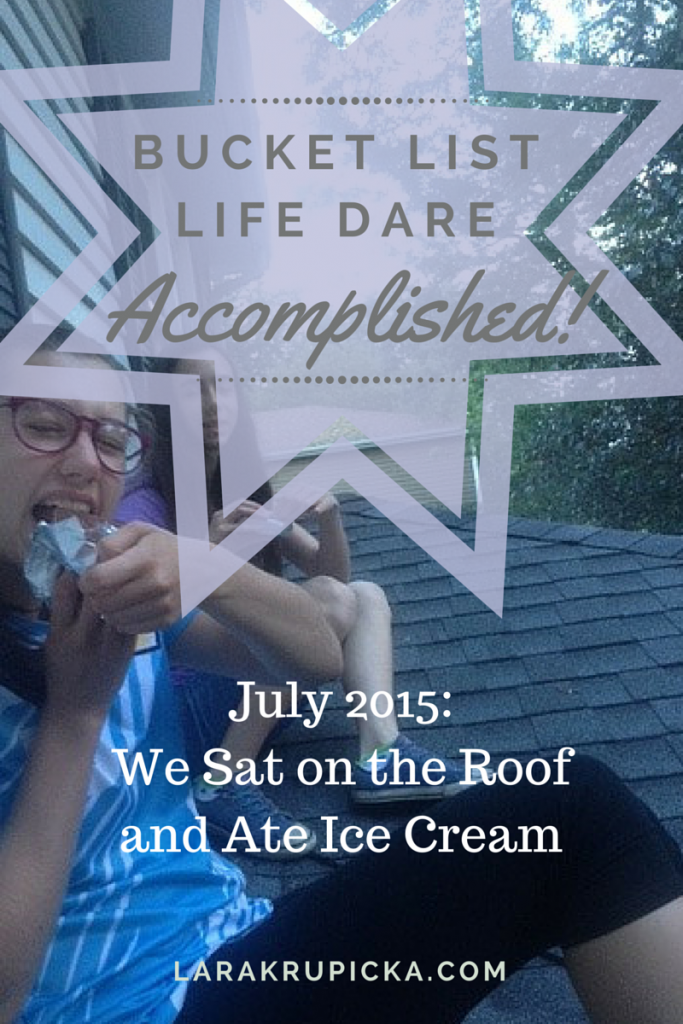 It was a sultry evening, thick with late July heat and humidity, but overcast enough that the roof wasn't too hot to sit on, with a gentle breeze that stirred the warm air around.
I opened the window screen in my office, placed a stepstool under the window, and hoisted myself into the opening, one leg outside, straddling the ledge. Somehow climbing the rest of the way out became a sort of human origami act, me folding myself in half to duck out the window, while testing different bent configurations of my limbs in an effort to fit through without falling. I tried and got stuck. Tried again. And finally managed to squeeze through and pull my other leg over the ledge.
It seemed like it should have been easier, especially when each of my three girls popped out the window behind me with brisk efficiency. In my defense, having an ice cream sandwich in one hand did add a challenge to the process. That and a fear of heights.
Once outside all four of us lined up along the low roof above our garage, eating, chatting and people watching. I kept waiting for passers-by to spot us, but no one looked up in our direction. Perhaps it didn't occur to them to expect anyone to be up where we were. But it seemed strange to me to see our neighbors pass by close enough to hear their conversation and yet not have them notice us. I'm used to the vantage from our driveway where we sometimes sit. There we share greetings with most who walk by.
As it was, it was a relatively quiet night. Very few cars, a handful of bikers, and a small number of walkers. The emptiness along our street wasn't surprising though, since our little city tends to empty out in late July as swim, baseball and softball seasons end, and families finally take their vacations.
After devouring our ice creams we sat there for a bit longer, enjoying the night and the view. One of my girls suggested bringing a game out to play. But that went beyond my comfort zone. I guess I hid my anxiety at being up high a little too well.
I'm glad we did it, though. That simple act – eating ice cream sandwiches on the roof – whimsical as it was, made for a memorable evening. I can see us doing that again next summer and the one after.
Just don't expect to see me walking around out there. I'll be the one on the end, back pressed firmly against the house.