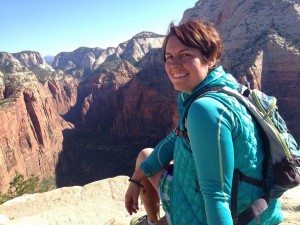 I have always admired Cheryl Lynn Cain for being a mom with a passion for making a difference. From hosting refugee families, to organizing a fair trade bazaar, to directing the compassion ministry at her church, Cheryl Lynn is a woman of compassion in action. The same is certainly true for her family bucket list – she steps out to engage in adventures that will make a difference in her children's approach to the world around them. So I'm thrilled to share with you an interview with Cheryl Lynn about a recent family bucket list adventure she undertook: being a lighthouse keeper.
Tell us a little about your bucket list.
I know some bucket lists tend to be very specific but mine has really one over-arching principle: to experience drastically different lifestyles in order to raise children who have tools for greater compassion, understanding and perspective.  (I know, a little heavy!  LOL.)  I think I got there because living in the suburbs, I noticed how easily my kids can be convinced that everyone lives similar lives.  So whenever I find an opportunity to step into a whole other world, well, I try to take it!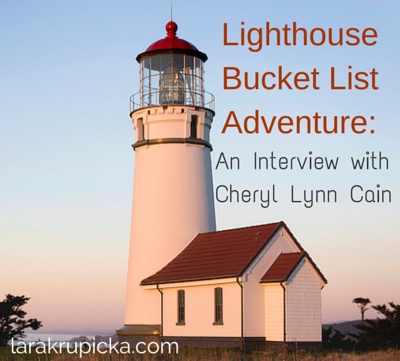 What made you want to stay in a lighthouse?
Lighthouses have had a certain allure for me.  I find the fact that people gave their whole lives, many times living in isolation, in order to hold out a beacon of hope for weary travelers.  And the job was not sexy at all; a lot of day in and day out chores, a lot of watching and waiting for that one day where it would make all the difference.
How long has this been a dream of yours? 
The idea started when I was researching places to stay in California and discovered that many of their lighthouses were actually hostels that even accommodated families.  So after staying overnight at a lighthouse on the coast of northern California, I thought, there has to be something like that in Michigan.  I think many people don't realize that Michigan actually has more lighthouses than any other state because of their upper and lower peninsula.  So after a little googling I discovered that many Michigan lighthouses are run by volunteer associations that are always looking for keepers for a variety of stays.  The trick of course was that most require long stays or adults only.  However, Crisp Point Lighthouse, on the shores of Lake Superior in the Upper Peninsula allows families to volunteer.  So it was an easy choice.  However, as if serving as a keeper wasn't enough of a departure, this lighthouse happened to be 18 miles from a paved road or electricity.  So of course this fit even more perfectly to my bucket list, we have never lived off the grid.
What did your duties as lighthouse keepers entail?
Now lighthouses aren't quite what they used to be with solar lenses and all, so our duties mainly consisted of keeping in order the visitor center and bathrooms, locking and unlocking the lighthouse and becoming familiar enough with the history to answer questions.  However, the duties did not become nearly as challenging as co-habitating with the dense mosquito community of the north woods.  For all the things I planned for: the headlamps, the propane, bringing our own water and food, even planning for bears, I completely underestimated the bugs of the deep woods.  This definitely turned our service opportunity to a survival exercise.  (Our motto became: the more horrible: the more memorable!)  However, what we discovered is that we actually are survivors.  And honestly, with all the conveniences and ease of our everyday life, it was good to know that with a little help of supplies from the gas station 30 miles away, we can brave the elements and come out stronger for it.  But I would be remiss if I didn't also emphasize that our civil war with the bugs paled in comparison to the beauty of the U.P., the Taquahemnon Falls, the beauty of Pictured Rocks National Lakeshore, the time travel of Mackinac Island and the serenity and dignity of Crisp Point Light.
What is next on your bucket list?
Our next stop on the bucket list will be the western prairie.  We'll be heading out to South Dakota in the next few weeks staying in a covered wagon at the Little House on the Prairie homestead in DeSmet, SD and then staying at a working cattle ranch near Mount Rushmore and Custer State Park.  We will soon find out if cattle are kinder than mosquitoes and hopefully learn a greater respect for pioneers.
Cheryl Lynn blogs at www.raisingcain.wordpress.com.