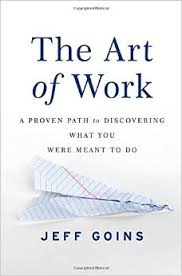 Recently I had the opportunity to read an early copy of a new book by Jeff Goins called The Art of Work (coming out next week, March 24th). I have followed Goins's writing for the past few years, but what impressed me about this book was how well it dovetails with the concepts in my book, Bucket List Living For Moms. For any mom looking to reshape her work life or find a new career, The Art of Work makes the perfect companion to Bucket List Living For Moms.
In it, Goins emphasizes the need to listen to your life for cues about your purpose and calling, a process familiar to readers of Bucket List Living. "The trick is to find your vocation hidden in your life," Goins says. He goes on to outline the stages involved in finding and fulfilling that vocation, with examples from the stories of how others worked through these stages in identifying their callings.
What readers will find most helpful about The Art of Work are the chapters about how to progress toward turning your aspirations into a lifelong legacy. As Goins notes, "A calling is not merely a moment; it's a lifestyle, a constant progression of submitting to a larger purpose."
Use the questions from Bucket List Living For Moms to explore your personal calling and create your unique bucket list of dreams. Then read The Art of Work for a road map to turning some of your bucket list goals and longings into a purposeful work life and meaningful legacy.
Right now Jeff Goins is offering a free paperback copy of The Art of Work. Simply subscribe to his email list and pay $6.99 shipping. You will receive the book, along with a pdf copy, video mini-course and more. Learn about his offer here (note: this is a limited time offer and will probably disappear once the book officially releases on March 24th).
Because of its value in helping chart a fulfilling work life, where vocation and bucket list converge, I have also added The Art of Work to my list of Books & Magazine for Bucket List Living. Check it out for other great works to inspire you in making your bucket list dreams a reality.