It's the most exhausting time of year! For moms the duties of kid schlepping, meal cooking, and overall household management, are joined by holiday baking, gift buying, card sending, and party coordinating. Put it all together and you end up with many mothers who are barely surviving. I'm right there with them!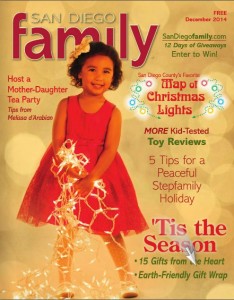 Why does it end up this way for so many of us so often? I believe it's because in the midst of all the chaos there is also much joy and satisfaction to be had. Even just checking off tasks accomplished from our lists can be fulfilling because we know we're playing an important role in our families.
But in case satisfaction is proving elusive for you this year, here are some hints and tips from my articles published in regional parenting magazines to help you navigate challenges like gift wrapping and sickness, as well as some encouragement for your new year.
Good-Looking Gifts That Are Good For the Planet
My new article, "Earth-Friendly Gift Wrap Alternatives," offers ideas on how to make use of bags, tins, and other materials you have around the house to disguise your gifts this Christmas, along with some history behind gift-wrapping traditions. Check it out in the December issue of San Diego Family.
Sickness Plus a Holiday Can Still Equal Celebration
None of us plans to be sick during the holidays, but it happens more often than we like. The good news is that  sickness of any kind doesn't have to derail the festivities entirely. In this month's issue of Connecticut Parent I share insight from experts and moms who've been there on how you can adapt the celebration around a sickness – whether it be a garden-variety flu, a hospitalization, or a life-threatening condition.
Plan for a Bright 2015
Forget the New Year's resolutions. There's a reason many people don't like them: they don't work. Instead, why not count down to 2015 with a list of things you can look forward to, or that can make life better, in the new year. Plan out 10 date nights, list 9 friends you will get together with, and so on. My article in this month's issue of Augusta Family, "A New Year's Countdown That Will Have You Looking Up," offers 10 idea-starters for listing out what you want 2015 to look like. After all, it's not too soon to be mapping out the next twelve months of your family's bucket list aspirations!