Don't you love it when you find a product or a system or a tool that improves your life? Maybe it simplifies a task. Or it saves you money. Or it brings beauty to your surroundings. Or all of the above. Well, those same qualities also make for good gifts. And since we can always use more ideas for holiday gifts, I thought I would share some of my favorite things that have made my life better in one way or another.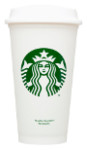 Starbucks Reusable Cup ($1 at select Starbucks stores) – Okay, so it's just a plastic cup. But for me it is the right shape and size: big enough for a Starbucks grande and tall, not wide, so that your drink doesn't cool too fast (my beef with half of the mugs in my cupboard). It has a lid with a sip spout. And besides only costing a dollar, it also gets you ten cents off your drink, hot or cold, when you use it at Starbucks. Plus it keeps more disposable cups from ending up in landfills. What's not to like?
Tosca Lee's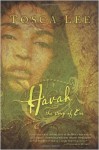 books – When I read her book, Havah, a reimagining of the life of Eve, expanded from the accounts in the Bible, I was hooked! It changed and expanded my thoughts on a very familiar story. And the storytelling itself is just breathtaking. Similarly her book Iscariot, about the infamous traitor, was well-crafted and not at all predictable. For those who aren't big on historical fiction, check out her more contemporary book, Demon: A Memoir or The Books of Mortals series, a collaboration with Ted Dekker. I'm hoping to get her latest book Sheba, for Christmas this year!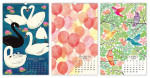 Paper Source Wall Art Calendar ($29.95) – It's a calendar and it is art. Don't expect to write on this calendar. But do expect to use it. Mine hangs above my desk and brings me smiles every day. It's a treat to flip the page each month and see what new image will grace my wall. Then, and this is my favorite part, when the year ends you turn each page over and cut it up. Note cards, pill boxes, file folders and more are printed on the back sides of each month. Simply cut along the lines (and fold, if necessary) and use. Those gorgeous images find new life when you use them on or as packages. Just yesterday I dug out my 2013 calendar to cut out a file folder. The 100% recycled pages are sturdy enough to double as templates for creating your own boxes and cards out of other materials too. It is worth every penny and makes an awesome gift!
Papermate InkJoy 100 Pens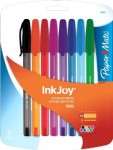 (approx. $.50 each) – Who doesn't love a good pen? I fell in love with Inkjoy pens after picking them up during back-to-school shopping a year ago. They come in lots of colors, which I find fun. And they write so smoothly without scratching at the paper. One drawback – they do tend to bleed. But I've come to expect that from any inexpensive pen. A pack of these in multiple colors makes a great stocking stuffer.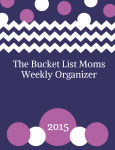 My Weekly Planner ($14.99) – I owe it to a friend for creating the original format that got me hooked on this two-page weekly planner. It allows me to capture on paper all of my daily to-do's, from household tasks to volunteer duties to work responsibilities and even meal planning. I tell my family, if it doesn't get on the list, it probably won't happen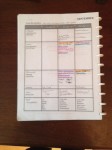 . I sit down every morning and fill out my lists. If I know I won't get to something that day, I write it down on a later date. Then as I complete tasks I highlight them (see that picture to the right?), so I can easily see what is left to do. And since I'm an office supply junkie, I use a different colored highlighter every day. (See below for the winner of a coil-bound copy of the 2015 edition).
These are just a handful of the things that make me happy and brighten my day in one way or another. I'm an advocate for sharing about products that work well and make life better. So please add your recommendations in the comments below.
And now, for the winner of the 2015 Bucket List Mom Organizer Challenge: Katie H.!
Lulu is offering an extra 25% off the coil-bound paperback edition, if you want to get your own copy or buy one for a friend. Just use the code KTP4 through Dec. 25th (one coupon per Lulu.com account).