If you've never checked out the new monthly digital publication, Bucket List Living Magazine, you should. The layouts are sharp and the articles make the most of the digital platform, such as including imbedded videos and links to recommended products. And the articles are both practical and inspiring. As the name suggests, this magazine is all about living out your bucket list.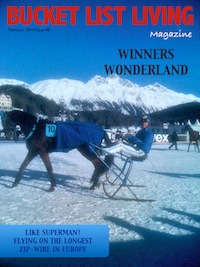 I'm pleased to be part of Bucket List Living Magazine's February issue, with my article "3 Strategies For Planning Family Adventures." As a contributor, they have generously given me a special code to share with you for three months of their digital magazine FREE (and you don't need to worry about having to cancel an automatic renewal  – it's 100% free. But you'll likely want to jump on a paid subscription after that). The discount code is "3free" and expires on February 28th. Here's all you need to do to get your copy:
 Go to "App Store Downloads on iTunes".  Search for Bucket List Living Magazine.
Download the free app by tapping the FREE button.
Tap the INSTALL APP button.  You will then enter your Apple ID Password and click OK.
When the magazine app is finished installing tap the OPEN button.
Permission to send new issues and push notifications from Bucket List Living Magazine is requested.  Choose OK.
Tap the SUBSCRIBE button and then the CURRENT SUBSCRIBERS button.
Enter the coupon code "3free" into the account number box and tap the CONTINUE button.  After you enter the code you will receive a notification that you have subscribed successfully.  Tap CLOSE. (The current issue should begin downloading in the background.)
A VIEW button will appear below the current issue, tap it to begin enjoying the magazine.
You will have access to any issue published during the trial subscription period.  At the end of the trial period you will retain access to any issue downloaded during the trial period but will be required to pay for any subsequent issues.