Happy November! Have you started counting your blessings yet? You might want to think about getting a head start on it. Because by the time Thanksgiving arrives, we're so revved up to launch into the holiday season, that Thanksgiving itself gets the short end of the stick. We spend one day watching parades and football games, eating a big family meal, and somewhere in there hopefully reflecting on how fortunate we are.
But after a brief "thank you," we're off and  focused on buying, wanting, and consuming (sometimes in the same day). I know many people rue the press of holiday sales into our one official day of grat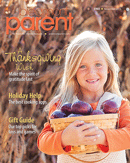 itude. I wrote an essay about my feelings on it. You can read it in the November issue of Piedmont Parent.
However, this year, rather than fight mass retailers and Black Friday shopping, I decided to move the thanks up a few weeks to spread it out a bit. It starts today with I have an exercise for you to use with your family. It's a question for you to pose to them, but in order to get the fullest answers, you'll need to ask it more than once and allow time for reflection (trust me, I know this from experience). It's a question that will have your family not only considering how blessed they are, but also noticing the best of what makes your family who they are. And it will show you as a parent which aspects in your family life are having the biggest impact on your kids.
Ask your family this: "What are you most grateful for about being a [insert your last name here]?"
We began yesterday discussing what we're all grateful for about being Krupickas. The answers were weak, but we're just getting warmed up – after all, there are still three and a half weeks to go until Thanksgiving.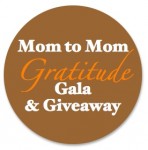 This month I'm also teaming up with two top-notch mom writers, Christa Melnyk Hines (author of Confidently Connected: A Mom's Guide to a Satisfying Social Life), and Heidi Smith Luedtke (psychologist & author of Detachment Parenting: 33 Ways to Keep Your Cool When Kids Melt Down) for a 3-week interactive gratitude party on our respective blogs that kicks off right here next Tuesday! Each week one of us will address connections between gratitude and an aspect of parenting. Watch for more details about the tour and how you can enter to win a prize package of all three e-books (and a second set to give to a friend).
I hope you'll come back next week to join in the fun. And invite your friends! It's your chance to extend the gratitude too.
And Pinterest users, look for a special post written just for you, tomorrow.