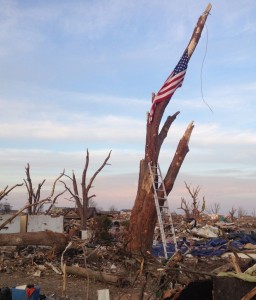 Midmorning on November 17th, 12 tornadoes tore through the Midwest, ripping homes off of foundations, tossing cars into fields, and causing chaos for hundreds of families. Our city suffered only heavy winds and rain. But the local television stations ran continuous footage of devastation not far away.
When our church put out a call for relief aid, my fourteen-year-old daughter and I signed up. Unaware of what we would witness or how we would be changed.
In the pre-dawn darkness of Black Friday we joined 15 others for the 2-hour drive. The windows of our 12-passenger van remained frosted over until the last few minutes, when the sun rose above the horizon enough to defrost them. In time for us to see what tv broadcasts barely revealed.
Neighborhoods flattened. Massive trees reduced to picks. Houses with roofs missing and walls leaning inward, interiors exposed.
How did anyone survive?, we questioned. And what were they going to do now?
In all, 1,000 homes were damaged or destroyed in the town of Washington, Illinois, where we ventured to help. Yet only 2 people died because of the storm. A miracle.
But the miracles hadn't ended there. During the course of the 10-plus hours we spent in the town we witnessed an outpouring of human kindness – toward those affected by the storm and even toward those of us on hand to help.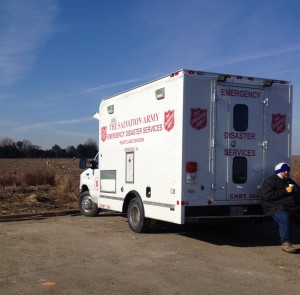 There was the Salvation Army food truck that pulled into a cul-de-sac near the cornfield where our crew and others were clearing the remaining debris (anything large had been hauled away in the two weeks since the storm hit). We spent hours bent over, picking up roof shingles, drywall bits, shredded leather belts, broken hangers, bits and pieces of toys. It was back-breaking work. And so when the call came to break for coffee, hot chocolate and snacks, we streamed over to the truck.
"This is the best hot chocolate ever," my daughter said, as we sat side by side on a curb in front of a boarded up house, a pile of broken furniture on the street nearby.
I agreed. The Salvation Army was our salvation in those moments. We revived enough to continue until lunch.
Lunch, it turned out, was a hot meal served by the women of a nearby church. They greeted us warmly and chatted while we ate. A miracle of a meal in the midst of the devastation. And a miracle of a church – unscathed by the funnel cloud that raced along yards away, damaging the house next door and flattening several across the street.
We spent the afternoon shoveling the remains of a two-story house into wheelbarrows to be carted from the back yard to the street. Piles, several feet tall and filled with a lifetime of belongings – books, figurines, a perfect teacup, an upturned baby grand piano, legs missing. We salvaged what little we could that hadn't been destroyed.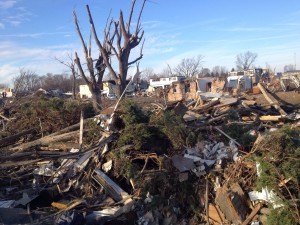 When the homeowner, an older gentleman, arrived in the evening, we sighed. Our labor felt ineffective for all he had suffered. And yet we heard him chuckle, as he waved at his former house (how, we wondered, with such great loss). Saw him tear up over an heirloom quilt, recovered intact. Prayed for him and his future plans to rebuild. Miracles upon miracles.
My husband and I always planned to take our kids on a short-term mission trip. It was on our bucket list. But I hadn't realized how valuable simple relief work could be. My daughter and I returned home changed. Shaken, saddened, and yet heartened too. The experiences we shared were unlike any other adventure we've undertaken.
I've resolved to add a new item to our family's bucket list: when our other girls are old enough, should the opportunity arise, I want to serve with them on a relief project – whether for hurricane, flooding, tornado, or whatever disaster should come and require aid. Because that's who I want us to be. That's how I want us to live. Amidst the brokenness and the miracles.