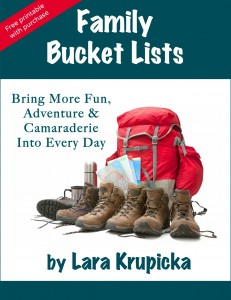 Today marks the official launch of the Family Bucket Lists e-book. I plan to celebrate all week long with some fun online events – including offering a free printable download of family night/dinnertime questions for brainstorming your family's bucket list when you purchase the e-book.
Here's where you can find me and Family Bucket Lists this week (more events will be added as details become available, so check back often):
Monday, May 13th
I'm over at Christina Katz (The Writer Mama)'s blog as part of her Every-Day-In-May-Book-Giveaway. She has been highlighting some great women authors all month. And today, in recognition of my book launch, she's featuring me and Family Bucket Lists. Come on over, learn more about me and my book and leave your answer to her thought-provoking question for your chance to win one of three copies of the e-book being given away.
Tuesday, May 14th
Friend and fellow Redbud Writer, Connie Jakab, will be featuring Family Bucket Lists on her blog, Culture Rebel. Stop on by!
Wednesday, May 15th (through Friday)
Writer Lesley Miller is doing a giveaway over on her blog, Barefoot on 45th – stop by before 6pm on Saturday to leave a response to her question to enter (hint: it has to do with your travel dreams).
Friday, May 17th
Angie Mabry-Nauta will share about Family Bucket Lists on her blog, Woman, in Progress. Voice your comment there to be entered in a drawing to win a copy of Family Bucket Lists.
If you're looking for a way to galvanize your family around a common cause, to celebrate accomplishments in big and small ways, to honor the unique dreams and goals of every person in your family – get your copy of Family Bucket Lists today. You can begin making dreams a reality every day.
And while you're here, leave a comment telling me one thing on your personal bucket list that you hope to accomplish in the next year.