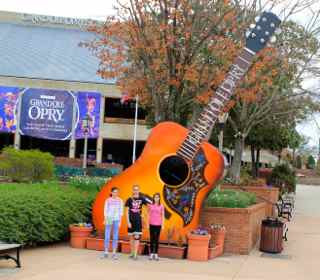 My family visited Nashville for the first time last week. We spent five days of our spring break in the city and checked off multiple bucket list goals (including seeing Nashville itself). We had a great time that promoted family bonding, even though we could have done better at making the most of it.
Which is how it often goes. There's life as we envision it and life as it actually happens. I'm getting better at accepting imperfection and embracing the benefits that come with the altered version. Here is how that played out for us last week:
The good
we all enjoyed the Country Music Hall of Fame – a bucket list tour of sorts for our country-music-loving eldest daughter. We were able to take our time (about two hours-ish) and were duly impressed. It was eye-opening to see the breadth of musical styles encompassed by the term "country music."
we ate some incredible food. With a rented condo, we planned on only eating out for lunch. We made it to two well-known Nashville eateries: Jack's BBQ and Arnold's Country Kitchen. At Jack's we people-watched out the large second-story windows overlooking Broadway. Arnold's, with its communal seating and friendly busboy had a down-South homey feel.
we spent tons of time outdoors. The weather was amazing – in the upper 70′s/lower 80′s every day and sunny. Thankfully most of our itinerary involved the outdoors. We spent one day touring Belle Meade Plantation and then the Cheekwood Botanical Garden. A second day found us out on a Nashville disc golf course helping DH check another one off his list. And we walked around the campus of Vanderbilt University. After the horrid winter we had, the warmth and sunshine were so, so appreciated.
we relaxed. A lot. Planning dinners at our condo meant we spent most evenings just chilling – either playing games or watching TV. That downtime did us all some good. We arrived home at the end of the week feeling pretty relaxed and replenished.
The disappointing
we didn't hear much music. While downtown we ate at Jack's, not a venue with live music. We stopped in at one of the honky tonks, but with three kids in tow and no meal to eat, it felt uncomfortable. The upshot? DH and I will return to Nashville one day without kids and spend a lot more time taking in the music. Disappointing, but not a vacation wrecker.
we didn't experience as much regional food. I had been hoping to try one of the hot fried chicken restaurants. But the way we planned our days left us miles and miles from one at lunchtime. Twice we just grabbed the nearest food we could find (including a food court at the outlet mall before touring Gaylord Opryland Resort). Bummer for us, since we all would have liked to have eaten better. Under the circumstances there was not much we could have done about it though. And I don't regret the dinners at the condo for the downtime they provided.
I share this because the reality of any bucket list adventure is that it will not turn out one hundred percent according to plan. At the time, our family enjoyed ourselves so much, we didn't particularly notice what was missing. It wasn't until we got home and recapped the trip that we noticed the lapses. So overall it was a success. And that's the point, right? It's not so much about getting everything perfect as it is to be present to what you are doing and take joy in that. Plus, if a place or experience is that good, what's not to like about finding a reason to do it over again?
When have you let go of "perfect" in order to enjoy an adventure as it happened?